I'm so sorry that your pet needs medication.  I mean it.  I wish so much that our sweet darlings never had anything wrong with them and never needed medication.  But, just like humans, our babies need a little help from the pharmacy sometimes.  So I've done my best to find the best place to purchase pet medications based on quality, price, and service, and VetApprovedRX.com is it! You'll be glad you found this review of VetApprovedRX.
VetApprovedRX Review
Company/Website:  VetApprovedRx.com
My Rating:  A+
My Favorite Feature: My customer service representative, Cheryl!
Price: The lowest price on absolutely every medication
Shipping: FAST and free for orders of $49 or more
Customer Service: Above and Beyond!
FDA and EPA Approved
100% Satisfaction Guarantee
A+ BBB Rating
Why I Use VetApprovedRX
The reason I initially started ordering through VetApprovedRx.com was because whenever I did a search online for the best price on pet medications for my dachshund, Taz, I continuously found myself at VetApprovedRx.com because they always ended up having the best price.
Then once I placed my first order,  I realized they have super fast (and I mean FAST) shipping. That's important because sometimes I forget, and I'm ordering Taz's medications at the last minute.
Best Place to Buy Pet Medications Online
Later, I gained yet another reason to always order Taz's medications from this company, and that's CUSTOMER SERVICE. As you may know, whenever you buy pet medications online, your vet either has to provide a prescription or else approve the order. This is not a problem since VetApprovedRX.com will contact your vet for you if you give them the vet's contact information.
Vet's offices are used to this.  They receive a fax from the online pharmacy asking them to approve the prescription by signing the request and faxing it back.
I've ordered many, many times, but then all of a sudden there was a problem because my vet's office failed to approve my order. Cheryl from VetApprovedRx.com contacted me by email and told me there was a problem. I called the vet's office and was told what the problem was…they lost Taz's prescription!
I provided them with the record of Taz's prescription (honestly – should I really have to do their job? grrr) – PLUS VetApprovedRx.com also provided the vet with a copy of the last order which was approved by their office.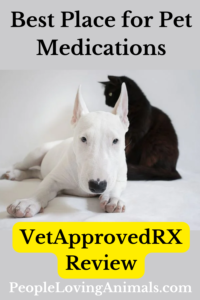 I couldn't have been more impressed with the fact that VetApprovedRx.com went to all this trouble to get vet approval for my order!  THEN, Cheryl called me personally to ask if I'd like priority shipping since there had been a delay! They offered me several shipping options to make sure Taz didn't miss a dose of any of her medications.
Honestly, I can't tell you how blown away I am by this level of customer service.
Excellent Customer Service
Cheryl has stuck with me.  Whenever I email with a question, it's Cheryl who responds, and if they ever need any information, it's always Cheryl who calls me. I like this because it's easy when someone knows your pet's history – easier than explaining things again and again to a new person every time, you know?  VetApprovedRx.com will remain my favorite place to buy pet medications online.
Pet Medications Available at VetApprovedRX
VetApprovedRx.com has medications for dogs, cats and horses.  You can search for medications by name, or by use, such as allergy relief, antibiotics, thyroid, etc.  And you can also search for medications by symptoms such as nausea, anxiety, bad breath…it makes it easy to find whatever you're looking for!  They have all the top brands, and even holistic and natural pet products as well. And you can sign up for their newsletter to receive coupons and special offers.
My Recommendation
Best price, super fast shipping, outstanding customer service, and brand-name, high-quality products.  Need I say more? Check them out HERE.
I'd love it if you'd come back to this review and comment about your experience with them.  Debra
Pet Health Insurance Recommendation
I highly recommend getting pet health insurance to help cover medical expenses for your pet.  My #1 recommendation is Healthy Paws.  You can read my full review here.
I Donate to Animal Charities
Thank you for visiting my website.  I donate 10% of earnings from this website to animal charities.  You can see a list of the charities I donate to here.  If you like this website, please share it with your friends and family who have pets.  Thank you!  Debra
For More About Pet Health, CLICK HERE