In this full review of The Farmer's Dog, we'll cover the best features, what this service is, how it got started, and how it works.  We'll discuss the benefits of feeding your dog fresh pet food, what this food is made of, how fresh pet food can help your dog lose weight, pricing, frequently asked questions, and finally, my recommendation. At the end of this post, we'll discuss the correct way to change your dog's food if you choose to try The Farmer's Dog.
The Farmer's Dog Review
Smarter, Healthier Dog Food
Real Food • Made Fresh • Delivered
Rating:  Awesome (Seriously)
Best Features
After researching several resources available about The Farmer's Dog, I came up with a pretty long list of pros:
Made with fresh, human-grade meat and vegetables
Preservative Free
No fillers
Fortified with fish oil and vitamins
Veterinarian-approved nutrition
Veterinarian-approved meal plans
Meals are personalized for your dog's age, weight, activity level and breed
There are four different recipe options – your dog gets to pick!
Meals come in pre-portioned, open-and-pour packs
Made fresh in USDA-inspected kitchens
Eco-friendly packaging (biodegradable and recyclable)
Free shipping within the US
Flexible delivery plans
You can pause or cancel your subscription at any time
50% off your first box!
The Farmer's Dog dog food is formulated and designed by a team of veterinary specialists, board-certified by the American College of Veterinary Nutrition. The food is made at USDA-inspected facilities located within the United States.
Only cons I can see:  Could possibly be expensive for larger breeds, but I suppose the food bill for larger dogs is big no matter what.  Also, the food has to be refrigerated, so you'll either need to make room in your fridge or possibly get a mini fridge to put, perhaps, in your basement, garage or laundry room.

What is The Farmer's Dog?
The Farmer's Dog is a fresh pet food service that delivers freshly made, balanced meals for your dog on a regular basis.  The meals are made with human-grade ingredients with high safety standards, less processing and easy serving.  You'll get a vet-designed meal plan customized for your dog's individual needs and the meals come in pre-portioned packages specific for your dog's weight.
The food is delivered within days of cooking and has to be refrigerated.  The deliveries are scheduled perfectly so you'll never run out.
Why Use Fresh Dog Food? 
What we feed our dogs can have a huge impact on their health.  Better quality, real food can improve your dog's energy levels and digestion.  It can help manage your dog's weight and can increase your dog's life span.  The Farmer's Dog uses high quality ingredients with safety standards never before seen in the dog food industry.  This results in your dog eating fresh food that is safe enough for humans, but also nutritionally complete and balanced for your dog.
What's the Matter with Regular, Dry Dog Food?
I personally stopped eating processed food years ago.  The long list of ingredients on most things just got too scary.  You know what they say, "If you can't pronounce it, then you shouldn't eat it!"  If you look at the ingredients on a bag of dog food, you'll see what I mean.  Seriously, what have we been feeding our dogs?
According to The Farmer's Dog.com, "A host of ingredient label tricks allow companies to mislead consumers, and numerous studies have found pet foods to contain ingredients not listed on their label or missing those they claim to use. Pet food production in the U.S. is held to alarmingly low safety and quality standards, which are hidden behind loose labeling and marketing regulations. While the picture on the bag suggests that the brown pellet inside was made with a gorgeous roast chicken breast, the reality can instead be diseased chicken parts, mixed with starchy fillers, and processed at temperatures known to produce carcinogens. And this can all be labeled "premium,""natural," and even "organic."
I'd say I'm shocked by this, but honestly, terrible stuff has been put in human foods for decades so it's no surprise the same is being allowed in pet foods.
The Farmer's Dog Food Ingredients
You can visit The Farmers Dog website for detailed information regarding all the ingredients they use, but here's one example:
Chicken Recipe:
First 5 ingredients: Chicken, brussels sprouts, chicken liver, bok‐choy cabbage, broccoli
Protein: 46% (dry matter)
Fat: 34% (dry matter)
Carbs: 12% (est)
Fat-to-protein ratio: 74%
Just take a minute right now and look at the ingredients list on your dog's current food.  I'll wait.
Ok, you're back.  I'm not surprised you want to keep reading!
Will Fresh Pet Food Help My Dog Lose Weight?
The Farmer's Dog has food plans that can help your dog manage or lose weight. They'll help you pick a meal plan that focuses on this goal, while also taking into consideration any special needs your dog might have (such as food allergies or health conditions).  It is always recommended, though, that you check with your veterinarian regarding your dog's diet if they have any health issues at all, especially series ones.  You should also consult your vet if your dog is elderly.  Your vet should always be kept in the loop once your pet gets older.
For some help about managing your dog's weight, read my article, How to Help Your Dog Lose Weight (includes video).  You might also check out this blog post by Professional Dog Trainer, Doggy Dan, called, Dog Nutrition:  Incorporating Vegetables into Your Dog's Diet.
Who Started The Farmer's Dog?
The company was founded in 2014 by Brett Podolsky and Jonathan Regev. Watch this video to hear their inspiring story and hear some of the differences between The Farmer's Dog fresh pet food and ordinary dry dog food.
How Does The Farmer's Dog Work?
1.  Upon entering the website, you'll answer a few questions about your dog's breed, age, weight and activity level.  You'll also be asked if your dog has any allergies, plus a series of additional questions (I'll show you more below…)
2.  You'll choose a flavor and set up a delivery schedule
3.  The food arrives, freshly-made and packed in dry ice.
4.  Your dog gets to try it!
5.  If you and your dog are happy with things, you can either continue with the flavors and delivery schedule you've set up, or else make changes as you wish.
The Farmer's Dog Pricing
The cost of The Farmer's Dog varies from about $3 a day for a small dog, about $8 a day for an active, larger dog, and more for very large breeds.  Every dog is unique, so the price will depend on the ingredients your dog needs and the amount of food they need for their weight and activity level.
Here's exactly what I got when I entered the site and went through their process.  I made up a fictional dog named Fido (original, huh?)  I answered their questions:  5-year-old male dachshund, 10 pounds, chunky body type, very active, will eat anything (not picky), currently eats dry food, gets some treats or scraps, no health issues, doesn't require a prescription diet.  Here are the results I got (I love how they put the dog's name on the bag):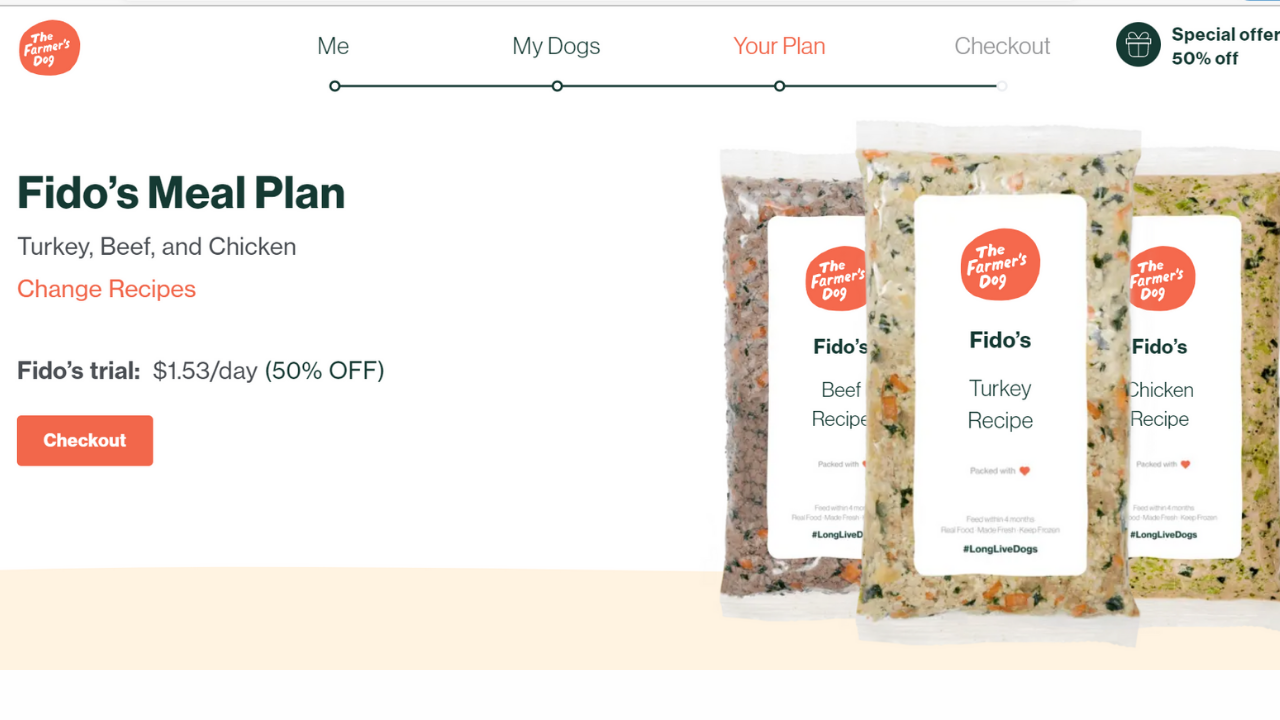 My Order Summary:
Your Plan:  Full daily meals for Fido's all fresh and balanced diet at a total of $21.43 per week.
Trial Order:  We'll start with a 2-week taste trial set to ship the week of May 23rd.
After the Trial:  Your selected plan will be billed and shipped every 8 weeks.
Two weeks of food $42.86
Trial price $21.39
Shipping – FREE
Tax $1.71
Today's total $23.10
Pause or cancel anytime
You'll get meal plans and pricing depending on the answers to the questions regarding your dog.

Frequently Asked Questions
Why Should I Feed Fresh Pet Food? There is growing scientific evidence that points to the health benefits of a fresh food diet, and to the dangers of many commercial pet food manufacturing processes.
Is the Farmer's Dog Food Recommended by Vets?  You can take comfort in the fact that The Farmer's Dog works alongside board certified veterinary nutritionists.  While many vets may argue over different food trends, most vets agree that fresh, nutritionally balanced food is great for dogs.
Is The Farmer's Dog Raw?  No.  The food is gently cooked at lower temperatures, avoiding damage to vitamins and nutrients during high-heat processing.
What Keeps The Farmer's Dog Food fresh?  Since The Farmer's Dog doesn't contain any preservatives, it has to be kept refrigerated or frozen.  Fresh pet food can usually last for months, as long as it remains frozen and sealed in its original package. Once a container is open and defrosted, it should be kept in the fridge and used within 4 days.
Is The Farmer's Dog Recommended for Puppies? According to The Farmer's Dog, "Some fresh dog foods are not safe for all ages and breeds. That's because…Large breed puppies have a higher risk of developing a crippling and permanent form of hip disease if they're fed a fresh diet that contains too much calcium… while they're still growing. Fortunately, The Farmer's Dog is considered safe for ALL adults and puppies, including those of larger breeds."
What If My Dog Doesn't Like the Food?
If your dog doesn't like a certain recipe, there's no need to return it.  The company will send you a different flavor, at no cost to you.  If your dog just doesn't like this food, you can cancel your plan anytime.
My Rating of The Farmer's Dog
As I've said, the only negatives I can see are that this food plan could be expensive for large breeds, and it has to be refrigerated.
I'm personally thrilled that fresh pet food is becoming more popular because I truly believe it prolongs our pet's lives and makes them healthier.  I'm confident and happy to recommend The Farmer's Dog.

How to Change Your Dog's Food
Changing your dog's food can cause things like diarrhea, vomiting, decreased appetite and other gastrointestinal upset.  You should always change your dog's food gradually, so your dog's digestive system has time to adjust to the new food.  Change the food by mixing the new food in with the old food a bit at a time, adding more new food vs old food each day.  The transition should take place over about 5-7 days.  For more information on the correct way to change your dog's food, read this article from the American Kennel Club.
Are There Fresh Food Companies for CATS?
I'm checking into Smalls.com for fresh pet food for my cat, Whiskers (that's him in the pic…awww).  Subscribe to my Cat Lovers' Email List to read my review when it's complete.
I Donate to Animal Charities
Thank you for visiting my website.  I donate 10% of all commissions I earn on this website to animal charities.  You can see a list of the charities I donate to here.  If you like this website, please share it with your friends who have a dog or a cat.  Thank you!  Debra
For More About Pet Health, CLICK HERE
Related Articles:
Dog Nutrition – Incorporating Vegetables into Your Dog's Diet
Best and Worst Foods for Your Pet
Foods That Are Poisonous for Dogs
Feeding Your New Puppy