Pet medicals bills can be a nightmare. I've spent an absolute fortune on my animals over the years for their medical care.  Just regular vet visits, shots, etc. can add up so fast.  But when they get sick or injured, that's when the numbers become huge.
I always found it so upsetting that not only did I have to deal with the emotional upset that my pet was injured or sick, but I also had enormous stress in having to come up with the money to pay for their care.
Fortunately, thus far I have been able to pay for whatever my pets need – but there have been times when I had huge amounts of credit card debt because of it. I wish I would've done more research years ago about getting help with vet bills.  It would've saved me so much money and stress!
Care Credit
I found some relief when a friend told me about Care Credit (www.carecredit.com). It's a credit card that is accepted at most vet's offices.  If you pay the balance within 6 months, there are no interest charges! Monthly payments are required, but I find them to be manageable.  The thing I like most about this is knowing I have this card in my wallet in case any of my pets have an emergency.  If they need emergency medical care, for example, I can use this card and pay for it – then have several months to pay it off.
Pet Health Insurance Plans
Should I Get Pet Health Insurance? – The answer is YES.
I made a big mistake not purchasing pet health insurance for my pets when I first brought each of them home. I have spent THOUSANDS over the years on vet bills. By the time pet health insurance became popular (or at least by the time I found out about it), I had already spent a fortune. Now I've vowed that any time I get a new pet (and I imagine there will be dozens more in my future) one of the first things I'm going to do is buy pet health insurance.

Most people underestimate the cost of veterinary care.
Most, for example, would estimate the cost of removing a golf ball from a dog's stomach in the $300 range, when it would likely cost more in the range of $1500. Also cancer. Pets can get the full range of cancer that humans do, and the treatment (surgery, chemo, radiation) is expensive. The cost of treating cancer in a dog – from diagnosis, to surgery, to treatment, to follow up – can cost in the range of $8,000.
And even less serious troubles – such as an unexplained "limping," can cost in the range of $750 just for the test necessary to find out what the problem is. Not to mention just regular veterinary care. And if you have more than one pet, this can add up quickly!
Is Pet Health Insurance Worth It?
You can get more information about this in these articles:
Is Pet Insurance Worth it for Dogs?
Is Pet Insurance Worth it for Cats?
My Recommendation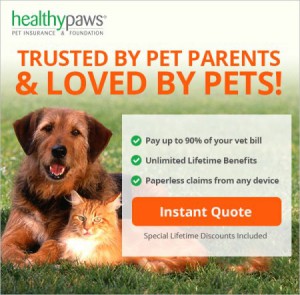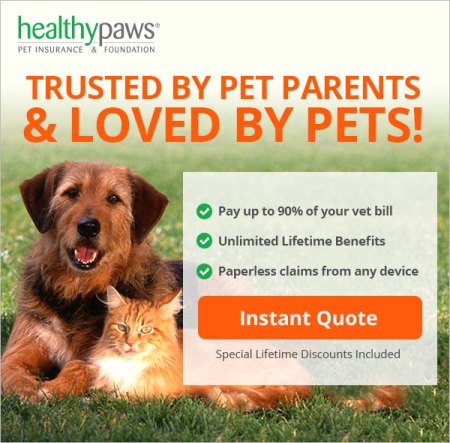 One of the top rated pet health insurance companies is Healthy Paws. They have been rated the Best Pet Health Insurance Company by their customers for 2012, 2013, 2014, 2015 and 2016 at Petinsurancereview.com, Consumersadvocate.org, PetInsuranceQuotes.com, and other leading review sites.  They earned this praise from their customers because they offer exceptional customer service!
You can get a free quote here.
Hope Before Heaven
In my area there is a place called Hope Before Heaven, which is an organization that raises money to help people whose pet will have to be euthanized if the owner cannot afford to pay for whatever medical care the pet needs.  You can contact them HERE to find out if they service your area, or to get help on how to find a similar organization near you.
I Donate to Animal Charities
Thank you for visiting my website.  I donate 10% of all commissions I make on this website to animal charities.  You can see a list of the charities I donate to here.  If you like this website, please share it with your friends – every purchase helps animals! Debra
For More About Pet Health, CLICK HERE