People Loving Animals is a website devoted to the care, health and training of dogs and cats.  The site consists of hundreds of posts with helpul tips regarding:
Cat Care, Health and (Cat and Kitten) Training
Dog Care, Health and (Dog and Puppy) Training
Pet Care and Pet Health
Most posts contain an accompanying video from my YouTube channel.
All of my posts are organized into categories.  (Refer to the menu on the left)
I've also started a blog all about the ownership, treatment, care, health and training of dogs and cats.  It's a place where we can just "chat" about pet issues.  Feel free to subscribe!

I Donate to Animal Charities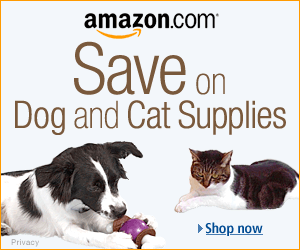 In many of the articles on this website, you'll see links to various products and services for pets and their owners.  I earn a small commission if you purchase something from any of these links. This is how I make a living; this website is my full-time job. 
I donate 10% of my earnings from this website to the list of animal charities below. 
Charities I Donate To
Humane Society of the United States Visit their website at www.humanesociety.org
PETA – People for the Ethical Treatment of Animals Visit their website at www.peta.org.
Animal Legal Defense Fund Visit their website at www.aldf.org
SPCA Visit them at www.niagaraspca.org
Heart of Niagara Visit them at www.heartofniagara.org
North Shore Animal League Visit them at https://www.animalleague.org/
Hope Before Heaven
They collect money to help pay vet bills when a pet needs medical care and the pet's owners can't afford to pay for it. Visit them at www.hopebeforeheaven.com
ASPCA You can donate or become a monthly member by signing up HERE.
Alley Cat Rescue Visit their website here.
Last Chance for Animals Visit their website here.
Tell Me About Your Favorite Animal Charity!
Email me at Debra@peoplelovinganimals.com  if you have a charity you'd like added to our list!  Please include the charity's website address/link.
Please Share!
People Loving Animals is a group effort.  Your comments, suggestions and questions are encouraged!  Together we can learn more, and share more, about being the best pet parents we can be!
Please share the site with your family and friends who have a dog or a cat, and also on social media. Thank you!  Debra