I buy stuff on Ebay a LOT.  Anytime I need something, I shop around online, and I have to say that 9 times out of 10, I end up finding it for the lowest price on Ebay. I don't just buy pet supplies on Ebay, I buy everything from clothing to shoes to housewares to makeup, to patio furniture – everything!
Biggest Advantage: Lower prices with FREE SHIPPING!
More Advantages of Buying on Ebay:
Unlimited products available.
Anything you can think of you can find on Ebay. And the selection is huge. Whatever size, color, price – the choices are endless.  There are people from all over the world selling products. Virtually anything you want, they have!
PRICE
Sellers can sell products on Ebay so much cheaper than retailers because they have no overhead. Ebay and PayPal take a small fee, and that's pretty much it. Also, Ebay sellers tend to buy in bulk/wholesale, so their price-per-item tends to be low, so they can sell it cheaper. The price difference, compared to shopping even at places as cheap as Walmart, is truly remarkable.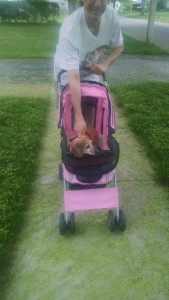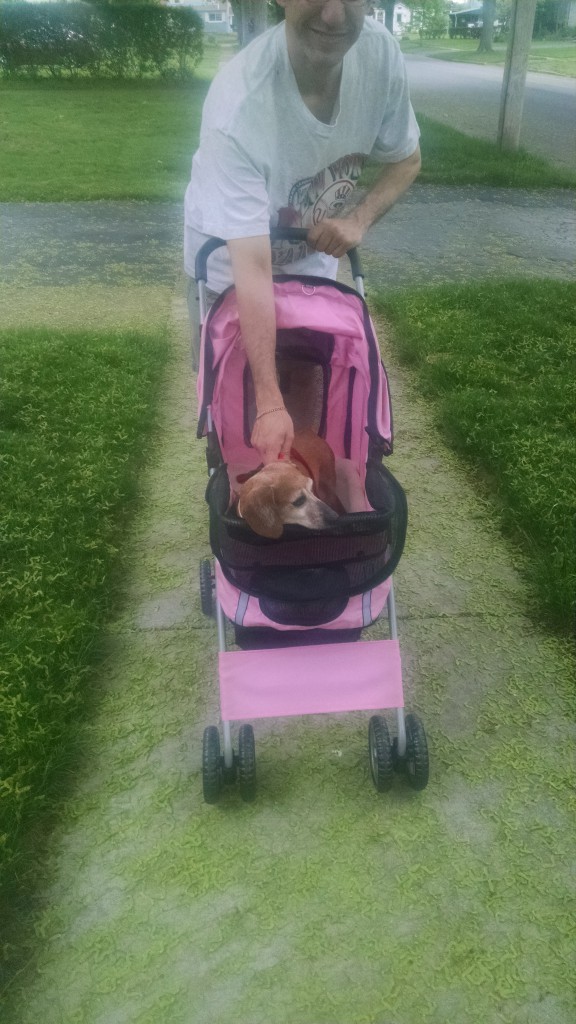 As an example, I purchased this pet stroller for my doxy, Taz (isn't she so freaking cute?) on Ebay for $44 with free shipping (brand new in box). The same buggy was at Walmart for $85 plus tax! I find deals like this on absolutely everything I look for on Ebay.  The prices are just way, way cheaper! Check out the dog buggies on Ebay here.
By the way, that's my hubby, Leo with Taz in the picture.  You should see our neighbors' reactions when we take Taz for walks in this buggy.  At first glance, they think we're a couple walking a baby.  Then they look closer and see it's a dog! They always crack up when I say, "She looks just like her father!"  (Leo hates that line….LOL)  🙂
You can compare items and sellers. 
You can do detailed searches on Ebay where you can choose to filter by things like "lowest price," or "free shipping," or "items within 50 miles of me," or "new items" or "used items."  You can be very precise as to what you actually want and Ebay will do the searching for you. Size, color, brand – you name it, you can ask for it!
Ebay is easy to use.
Just open Ebay and put the item you're looking for in the search box and tons of listings will come up.  On the left side of the screen you will see spots where you can refine your search by things like size, color, price, etc.  On the right of the search box there's "advanced search" which you can click to refine your search even more.   As an example, you might put "dog leash" in the search box.  Then specify size large, color red, free shipping, and less than $25.
That's just an example of how easy it is to search for products.  Then once you find products you like, you can either bid on them if they're "up for auction," or BUY IT NOW, which most Ebay sellers give as an option.  Then you pay with PayPal, which is super easy.  (If you don't have a PayPal account, it only takes about two minutes to set one up – Ebay will guide you through that.)  Many Ebay sellers also accept credit cards if you don't want to use PayPal.
It's easy to open an account.
You can do it in less than 2 minutes. All you need to do is fill in your name, email, and choose a password.  Ebay will allow you to choose your username. Done!
It's easy to pay.
Ebay accepts PayPal for most listings, and many sellers also accept credit cards.  It's super easy to pay online. It's smart to use PayPal because they offer extra buyer protection (over and above what you'd get if you just pay with your credit card).
Ebay offers Buyer Protection. 
This is huge.  If you don't receive something you ordered, or if it is received damaged, or even if you don't feel the item matches the description in the Ebay listing, you can file a complaint with Ebay and/or PayPal and they will put a hold on the seller's account immediately until the issue is resolved!  Ebay/PayPal will also issue full refunds to you (price plus any shipping you paid) if the issue is not resolved to your satisfaction.
Ebay sellers are rated by buyer feedback.
This is really important, because Ebay allows buyers to leave negative feedback for a seller if the item isn't shipped on time, if it's not as described in the listing, if the order is filled incorrectly – or even if the seller's communication is rude, not helpful, etc.  This feature makes treating buyers like Kings a major motivator for Ebay sellers.  The higher their feedback, the higher their ranking in Ebay.  If they are considered a Top-Rated Seller, their listings come up FIRST when someone does a search.  It's huge.
Ebay is convenient. 
You can shop from your home computer, lapop, ipad, cell phone – from anywhere, anytime of the day or night.  You can get the Ebay app for your mobile phone – open it, search, choose, buy, pay – done!
Shipping is usually super fast and usually 

FREE!



Most of the top sellers on Ebay offer one day shipping.  Items are often shipped the same day you pay for them. Ebay offers big incentives to sellers for offering fast shipping and/or free shipping.  You can search with the requirement of free shipping! And they encourage buyers to leave positive feedback if the seller does a good job with shipping – so it's something Ebay sellers really strive to make as fast as possible!
Another Advantage to buying on Ebay!
Ebay has a program called Ebay Giving Works.  It allows sellers to donate a portion of their sales to charities – including animal and pet charities!  If you choose a seller that participates in Ebay Giving Works and donates, say, to the ASPCA, then a portion of your purchase will benefit the ASPCA.  And here's the even-better news!  I personally donate 10% of all earnings from this website to animal charities.  You can click on We Donate to Animal Charities to get the list of charities I donate to.
So if you get to Ebay by clicking any of the Ebay links in this article and make a purchase, then not only will a portion of your purchase be donated to animal charities by the Ebay Seller, but also by me! THAT'S A DOUBLE DONATION EVERY TIME YOU PURCHASE SOMETHING!  Just click "Ebay for Charity" in advanced search options when searching for your items on Ebay.  Cool, huh? If you're going to buy something, why not help animals at the same time, right?
Go ahead, check it out. Take a look at the variety of pet supplies here!
I Donate to Animal Charities
Thank you for visiting my website.  By the way, I donate 10% of all commissions I make on this website to animal charities.  You can see a list of the charities I donate to here.  If you like this website, please share it with your friends – every purchase helps animals! Debra