Owning a dog is a big responsibility.  As a dog owner, there are several aspects of your dog's life and care that you are responsible for and need to be knowledgeable about.  In this article, we'll go over several aspects of dog care, particularly focusing on the basics of how to take care of a dog to benefit first time dog owners.  This post covers:
Dog Health
Feeding Your Dog
Dog Treats (or not!)
Exercising Your Dog
Dog Beds
Crate Training
Dog Grooming
Flea and Tick Protection for Dogs
Dog License and Identification
Dog Supplies
Dog Sitters
Dog Training including dog obedience, leash training, potty training, crate training, puppy training (free tutorials!)
How to Care for a Dog
Dog Health.  As soon as you get a dog or puppy, you should establish them as a patient with a nearby veterinarian.  Ask for recommendations from friends and family to find out where they take their pets.  Puppies and adult dogs need to receive necessary vaccinations and it's important to have your dog spayed or neutered.  Female dogs should be spayed, and male dogs should be neutered by the time they're six months old.  If you need help paying for this, read my article, Free Spay or Neuter Clinics.
Dog Health Insurance
You might consider getting an inexpensive pet health insurance for your dog to help cover their medical expenses throughout their life.  For advice on this, read my article, Health Insurance for Pets – EVERYTHING I Wish I Had Known! Get a folder of some sort from your local dollar store and use it to keep all medical records for your dog.  You might also ask your vet to send you a reminder card in the mail whenever your dog is due for a checkup or vaccinations.  You can also read my article, Is Dog Health Insurance Worth the Cost?  That post has a video and you'll get to hear about my $20,000 Dachshund! (seriously…get pet insurance!)  My recommendation for health insurance for your dog is Lemonade.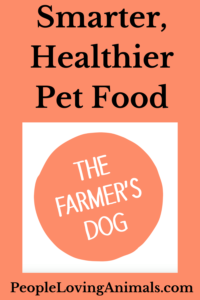 Feeding Your Dog.  You can follow the guidelines below for feeding your dog, plus I suggest you ask your vet for advice for your particular dog/breed.  Puppies should eat puppy food until they're a year old, then you can switch to adult dog food.  Be sure to provide fresh drinking water at all times and wash their food and water bowls frequently.  I rinse pet food and water bowls daily and wash them with soap and water weekly.
Puppies 8-12 weeks old:  4 meals per day
Puppies 3-6 months old:  3 meals per day
Puppies 6 months to one year old:  2 meals per day
Adult dogs (over one year old):  One meal per day is sufficient, but you can also split it up into two meals if you prefer.  You should feed your dog the best quality dog food that you can afford.  If you're a new puppy owner, read this article, Feeding Your New Puppy – Proper Puppy Nutrition.  You should also be aware of which foods you should not share with your dog.
Fresh Dog Food
If you can afford it, you might consider providing fresh dog food for your dog.  The health benefits are outstanding, and your dog will love you for it!  I recently saw an advertisement for The Farmer's Dog where they said no animal should have to eat the same processed food every meal of their life.  I agree!
Feed the best quality food you can afford.  That's first and foremost.  But like I said, if you can afford to, please consider fresh dog food.  My two recommendations are The Farmer's Dog and Nom Nom.

Dog Treats (or not!)  Some commercial dog treats can actually be harmful for your dog and don't usually provide any nutritional benefits.  Instead of store-bought treats, I suggest giving your dog raw vegetables.  I once had a Miniature Dachshund who loved carrots and broccoli florets.  I also had a Boston Terrier who loved sliced tomatoes and peas and carrots!  For more information about using vegetables as treats for your dog, check out this blog post by Professional Dog Trainer, Doggy Dan:  Dog Nutrition – Incorporating Vegetables into Your Dog's Diet.
Exercising Your Dog.  Your dog will need daily exercise to burn calories, to burn energy if they're young, for mental stimulation and to stay healthy.  You should walk your dog at least once per day plus provide chew toys.  You might consider providing interactive dog toys to keep your dog occupied when you're not home.  Dogs who get enough exercise will have fewer behavioral issues and walking and playing with your dog every day is good for your health and happiness as well!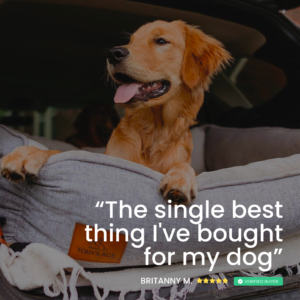 Get a Dog Bed.  You should provide your dog with their own bed in a quiet place where they can sleep without being disturbed, but not too isolated.  Dogs are pack animals and prefer to be close to the family.  Most don't enjoy feeling isolated and won't use their bed if it means they're totally alone.  Make sure you get a dog bed that is big enough for your dog.  You can find a nice selection of dog beds on Amazon.
If you are taking care of an elderly dog, or if you'd just like to give your dog a super comfy bed, consider purchasing a dog bed from Toby and Ace.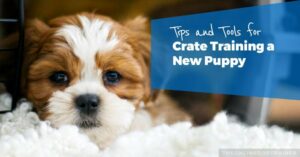 Crate Training.  If you have a puppy, you might consider using a crate both for training and as a place for them to sleep.  Here's a free, step-by-step tutorial on crate training a puppy from Doggy Dan:

Dog Grooming.  Keep your dog clean by giving them a bath about once per month.  For help on how to bathe your dog, read this article, How to Bathe Your Dog – Tips to Make it Easier for the Dog and YOU!  Frequent brushing will help keep your dog clean and will reduce shedding if your dog has longer fur.  If you have a breed that needs professional haircuts, ask your local dog groomer for a recommendation on how often your dog needs to go.
Flea and tick protection.  It's important to protect your dog (and you and your home!) from ticks and fleas.  For help on this issue, read my article, Pet Flea and Tick Control.
Dog License and Identification.  Contact your town or village office for information on the requirements for dog licenses.  You should also put a tag on your dog's collar with their name and your phone number.  You can get these at PetTags.com. You might also consider a microchip.  Ask your veterinarian for advice about microchipping.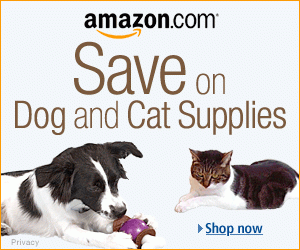 Dog Supplies.  Here's a list of basic supplies you should have for your dog:
Dog bed
Blanket
Food and water bowls
Brush 
Toys
Collar (I recommend a harness instead)
Leash
Pooper scooper or dog poop bags
Nail clippers
Dog shampoo
Dog coat (Click here to find out if/when your dog needs a coat)
Carrier (for small dogs)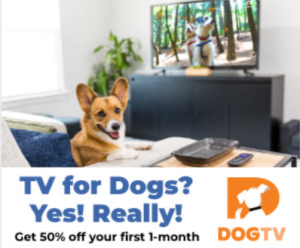 When you're not home.  You should make sure that your dog is safe and comfortable when you're not at home.  Leave the thermostat for heat or air conditioning on a comfortable temperature for your dog.  Make sure they have food, water, a dog bed and toys.  You might want to ask a trusted neighbor or friend to come over to take your dog outside if you're gone for several hours.  DogTV is also something you might consider to make your dog's time alone more enjoyable.
For more help on this issue, read Doggy Dan's blog post, How to Find a Quality Dog Sitter/Walker Your Pup Will Love.  If your dog is having difficulty being home alone, you can get help to make them comfortable from this article, Treating Dog Separation Anxiety – Tips to Help Your Dog Be Home Alone.  
Dog Training is a Must!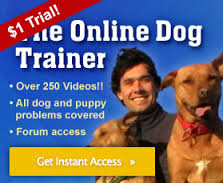 Training your dog properly will result in having a happy, well-behaved dog for life!  It's one of the best things you can do for yourself, and for your dog.  I recommend using the dog training site, TheOnlineDogTrainer for dog and puppy training.  The site is owned by Professional Dog Trainer and Behavior Specialist, Doggy Dan, and contains more than 300 videos where you get to watch Doggy Dan training dogs and puppies.
You can get a monthly membership for $37 per month, a six-month membership for $147, or get a full year of access for $198.  You can try out the site for 3 days for $1.   Doggy Dan has a complete puppy training program called, The Puppy Coach for only $19.  Also, here are a few of Doggy Dan's free tutorials that may help you:
The Easy Way to an Obedient Dog (free video series)
Potty Training Made Easy (free video series)
The Ultimate Guide to Leash Training
How to Set Your New Puppy Up for Success

How to Get Ready for a New Puppy
You might also like to read my article called, Bringing Your New Puppy Home (includes video).  That post talks about how to accliminate your new puppy into your new home with your family, including children and other household pets.
Also, here's a printable new puppy checklist you might find helpful!

I Hope This Helped!
I'm so glad you're taking the time to educate yourself on how to take care of your dog.  Your dog is lucky to have you!  Please feel free to comment below if you have any questions about dog care.  I'm happy to help if I can!
I Donate to Animal Charities
Thank you for visiting my website.  I donate 10% of my earnings to animal charities.  You can see a list of the charities I donate to here.  If you like this website, please share it with other dog and cat lovers!
For More About Dog Care, CLICK HERE