I've been saving money buying online for years.  Whether you're shopping for Christmas, for a pet's birthday, or purchasing a gift for your pet or a friend's pet, you can save a ton of money if you stay out of the big retail stores and buy pet gifts online instead. I have three recommendations for the best places to buy gifts for pets.  Plus, I'll be giving you great ideas for services you can purchase as gifts for your own pets as well as your friends and their pets.
Best Places to Buy Pet Gifts Online
Pets Warehouse
My favorite is PetsWarehouse.com.  You can read my review about them HERE.  I love this place because of the sheer VOLUME of pet items they have available.  Just browsing through their category lists will give you tons of ideas on what to buy.  You can save up to 50% off what the big retail stores charge at Pets Warehouse.
To visit their website,

CLICK HERE
Amazon
I've shopped on Amazon for years.  They have a really big selection, and their prices are almost always (scratch that…ALWAYS) way cheaper than the retail stores.  Amazon runs a lot of deals, especially if you have an Amazon credit card or if you're an Amazon Prime member.  Shipping is free if you buy right, and I'm always shocked at how FAST I receive the items.
To shop on Amazon for pet gifts,

CLICK HERE
Ebay
I've been buying (and selling) on Ebay for more than 15 years. You can read my review about the benefits of buying on Ebay HERE.  The thing about Ebay that's different from any other pet store – either retail or online – is that you can buy things USED.  I've purchased dozens of items over the years on Ebay, for my pet and for myself, that were used.  You can get things slightly used, even still in the box, for a fraction of the retail price.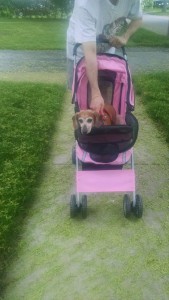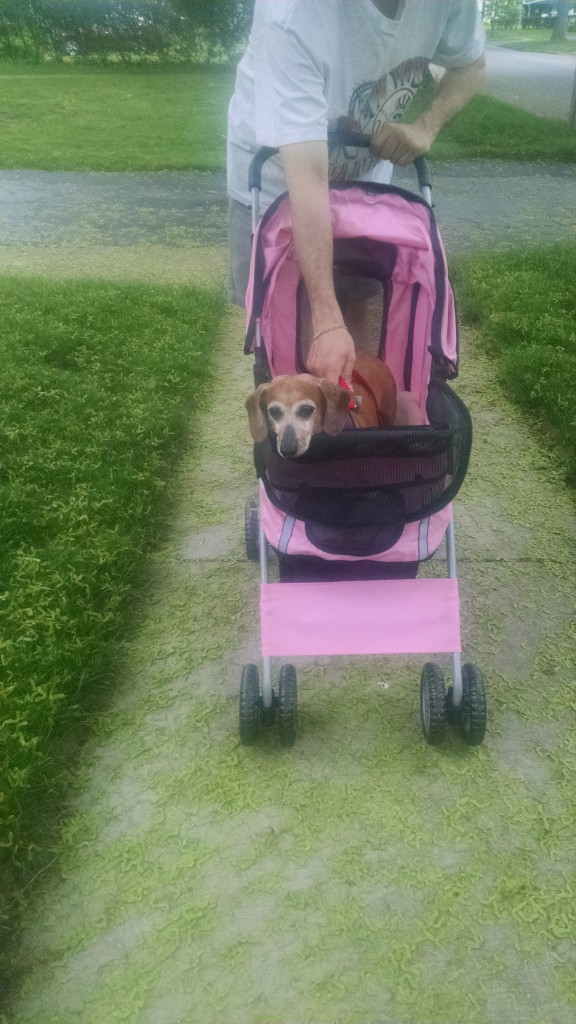 I purchased this
pink dog stroller
for my dachshund, Taz on Ebay "new in box" for $44.  It was on sale at Walmart for $85!  That's nearly HALF OFF.
To see pet items for sale on Ebay, CLICK HERE
Side Story:  Isn't Taz so cute in her buggy?  Sadly, we lost little Taz just a few months ago.  But toward the end of her life when she couldn't get around well, that buggy was a Godsend.  And it was so fun walking her around the neighborhood.  Kids would yell, "There's a wiener dog!"  or "There's a dog in a buggy!"  And people would look twice and tell us that at first, they thought my husband and I were walking with a baby in the buggy…then on second glance they'd realize it was a dog.
I'd always respond with, "She looks just like her father!"  Super fun.  I definitely recommend one of these dog strollers if you have an elderly dog, or an ill or injured dog.  It's great for their happiness to be taken for walks, even if they can't do the walking themselves.
If A Pet Has Passed Away
Dealing with the loss of a pet can be increasingly difficult during the holiday season or on special occasions like birthdays (ours or theirs!).  A nice idea for something you can still purchase for your pet as a gift, or for a friend who has lost their pet, is a Memorial Gift in the pet's name from the ASPCA.  You can do it online HERE. You get to set the amount.
They will send a nice card either to you, or directly to your friend, stating that a gift has been made to the ASPCA in that pet's honor.  Someone did this for me when my Taz passed away, and I was brought to tears with appreciation and gratitude.  It's just a nice thing to do.  Click HERE to purchase.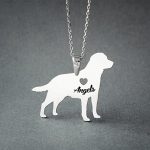 Another thing you can do if someone has lost their dog, is purchase a personalized necklace at
https://PersonalizedDogNecklaces.com
.  You can choose the breed and have the dog's name engraved on the necklace.  It's a wonderful, thoughtful memorial gift.
Brand New Purple Guy!
Speaking of little Taz, here's a video you might enjoy where I arrive home on Christmas Day from my sister's house with a gift, "The Purple Guy!" for Taz.
If you would like to purchase a "Purple Guy" for your pet, I will donate 100% of the commission for that purchase to the ASPCA in Taz's name. Thank you! Click HERE to purchase.
Gift Ideas for Pets
Personalized Pet Christmas Stocking.  CLICK HERE to purchase. What's cute about this is that dogs actually learn to realize the stocking belongs to them, and by the second Christmas they expect there to be something in it! A personalized Christmas ornament with the pet's name engraved is also a nice gift.
Sweaters.  It's amazing how many variations there are.  You can even purchase holiday sweaters, sports team sweaters…ha!  CLICK HERE to purchase.
Pet Health Insurance is a Great Gift Idea
Especially if you or someone on your gift list has a new puppy or kitten.  I suggest you read my articles:
Is Pet Health Insurance Worth it for Dogs?
Is Pet Health Insurance Worth it for Cats?
The articles describe how pet health insurance works, how to comparison shop for the best policy, what the policies cover.  And I also make my top three recommendations for the pet health insurance companies I've researched. My #1 Recommendation is Healthy Paws Pet Insurance.

Dog Training
Dog training is essential for anyone who has a new puppy, and can be life changing for anyone who's dealing with a dog who has a behavioral issue.  Here are the top three dog training websites I recommend:
The Online Dog Trainer
You can read my review of TheOnlineDogTrainer.com HERE.  I personally love this website.  It has more than 250 step-by-step training videos where professional dog trainer and behavioral specialist, Doggy Dan, talks you through how to solve any dog behavior issue.
He also has a special section called, "Project Moses," where he shows weekly training videos for his puppy, Moses, from the time he picks him up from a shelter at 8 weeks old all the way up to one year old. Anyone with a new puppy or a dog with a behavior issue will be forever grateful for the gift of a membership to Doggy Dan's website!
Dog Training for the Kids
TheFamilyDog.com is one of the most unique dog training websites I've come across.  That's because they focus on dog training for the whole family, especially the kids.  You can read my article, Dog Training for the Kids That's Actually FUN! for more information. This would make a great gift for a family who's just gotten a new puppy.
Free Mini Dog Training Course
TrainPetDog.com offers a free mini dog training course that you can try before you purchase any additional training materials from their website.  Signing up to receive this can be a nice gift for any dog owner.
Cat Training
Cats, even though they like to think of themselves as perfect, ultra-superior beings, can have some pretty serious behavioral issues as well.  If you have a friend whose cats pees all over the house, refuses to use the litter box, scratches all the furniture to shreds, bites…need I say more?  Cat training would be a very precious gift for that cat owner!  Here's the one I recommend:
Complete Cat Training Guide

If you feel you need more help with your cat's behavior, I can recommend a very good resource for cat training called, Complete Cat Training Guide from KingdomofPets.com. This is a downloadable Ebook containing step-by-step instructions on how to solve 25 real-life cat behavior problems.  This program is $37 and comes with a full money-back guarantee.



I Hope This Has Helped
Those are just a few ideas for pet gifts that someone might not think of.  If you have any ideas for gifts for pets, please comment below!  The more ideas we can put on this post, the more we can help people and animals.
I Donate to Animal Charities
Thank you for visiting my website.  I donate 10% of earnings from this website to animal charities.  You can see a list of the charities I donate to here.  If you like this website, please share it with your friends – every purchase helps animals! Debra
  For More About Pet Supplies, CLICK HERE