When you get a new puppy, the best thing to do for the puppy, and for you, is to create a new puppy schedule. Creating and sticking to a puppy training schedule is the best tool not just for puppy training, but also for your puppy's overall health, happiness and well-being. In this article, we'll discuss schedules for potty training, exercise, feeding, sleeping and crate training.
I'll also have some free resources and tutorials for you plus a recommendation for super effective, inexpensive puppy training.
Before we get started, please request this printable, hour-by-hour 8-week-old puppy schedule.  Print it and put it on the fridge!

Puppy Potty Training Schedule
Potty training is one of the biggest things new puppy owners struggle with.  But when you set a regular potty schedule for your puppy, it's much easier for your puppy to learn when to go potty, and where.  Taking your puppy outside to go potty HAS TO BE the very first thing you do each morning.
It's also important to realize that the younger your puppy is, the less time they can hold their bladder.  Also know that whenever your puppy has been sleeping, they have to be taken outside immediately when they wake up.
Potty training your puppy doesn't have to be hard.  Professional Dog Trainer and Behavioral Specialist, Doggy Dan, owner of the dog training website, TheOnlineDogTrainer.com, has a FREE potty training video course.  It's step-by-step potty training that you'll be SO glad you learned.  I've watched all the videos – it's truly the best potty training help you can get.

Puppy Exercise Schedule
Puppies have a ton of energy and need to be kept busy during the day so they don't start destroying things or go crazy.  Luckily, there are lots of ways to provide exercise and activities for your puppy like walks and playing with the kids.  You should also make sure your puppy has enough toys, and also interactive toys.  Here are a few suggestions, with links to purchase these on Amazon:
A frisbee to play outside
An antler bone – it's a natural chewing source
A puzzle toy for mental stimulation
A kong you can put a treat in to keep your puppy busy
A puppy chew toy 
A soft plush toy to play and snuggle with
Activities and playtime should be scheduled throughout the day.
Puppy Feeding Schedule
Setting up a puppy eating schedule is more important than you might think.  It can have a big impact on various aspects of puppy training.  You should have one designated eating area for your puppy, always serve their food in the same bowl, and remember to make sure they have fresh, clean water each day.
As far as the frequency of meals, it's best for a young puppy to have several small meals throughout the day.  As your puppy gets older, mealtimes can be less frequent.  For more information about puppy nutrition, read my article, Feeding Your New Puppy – Which Food, When and How Much? (includes video).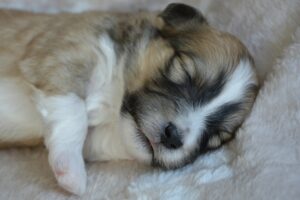 Puppy Sleep Schedule
Just like human babies, young puppies require a lot of sleep during the first year.  For more information, refer to my article (includes video) Why Do Puppies Sleep So Much?  It's important to schedule enough time for your puppy to rest throughout the day, in a safe place where they won't be disturbed.
Crate Training Schedule
Crate training can be a helpful tool for puppy training and can also help keep your puppy on a regular schedule.  For advice about puppy crate training, you can read my article, Crate Training Puppies (includes video).  An even better suggestion is to take advantage of Doggy Dan's FREE, full tutorial on crate training a new puppy.

More Help Setting Up a Puppy Training Schedule
You can get more detailed advice about puppy training schedules by reading Doggy Dan's free tutorial called, 8-Week-Old Puppy Schedule: The Ultimate Guide to Training Your New Puppy.   Doggy Dan's hour-by-hour puppy schedule is below – and don't forget to request your printable version.
8-Week-Old Puppy Schedule by Hour
11:00 AM – Eat – Feed Time #2
2:00 PM – Eat – Feed Time #3
5:00 PM – Eat – Feed Time #4
6:30 PM – Exercise
7:30 PM – Sleep 
10:00 PM – Final Potty and Bedtime
Want More Help with Puppy Training?
We've just gone over a lot of information about setting up a schedule for your puppy.  I realize this can all seem a bit overwhelming!  Remember that as your puppy gets older, his schedule can be more relaxed.  If you'd like to receive continued guidance as your puppy gets older, I suggest taking advantage of Doggy Dan's comprehensive puppy training program called, The Puppy Coach.
The program covers everything from basic puppy obedience training to managing serious behavior issues.  It contains more than 70 videos on how to set up your puppy for success as they get older.  I strongly encourage you to take advantage of this!  You can read my review HERE or go directly to the program below:

I Donate to Animal Charities
Thank you for visiting my website.  I donate 10% of my earnings to animal charities.  You can see a list of the charities I donate to here.  If you like this website, please share it with your friends and family, and on social media.  Thank you!  Debra
For More About Puppy Training, CLICK HERE