Sadly, I've owned two dogs who had very serious health issues.  I'll tell you about them here.  These are just two examples of how medical bills can add up super fast, often unexpectedly.  I'll give you a recommendation for cheap pet insurance that can help you to prevent huge financial losses if your pet gets sick or injured.
Cagney and Tazzie

My husband and I recently adopted Cagney, who came to us after sustaining an ACL injury (knee blow out!).   That's him in the picture – isn't he cute with his little stuffed monkey?  I love him to pieces  🙂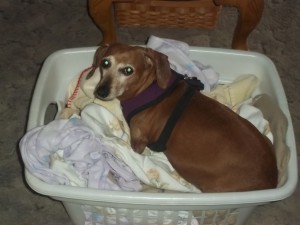 Just three months prior, we lost our 14 year old mini doxy, Taz.  I adopted Taz from a shelter six and a half years earlier, and in that time frame I spent more than $20,000 on medical bills for her.  You read that right – $20,000!
She had one major health issue after another, and although I don't regret going into huge debt to give her the medical care she needed (I loved her immensely), I certainly wish I had purchased a pet insurance policy for her before any of those things happened! (That's her in the laundry basket – the clothes were warm from the dryer so she jumped in – who could resist?)

Healthy Paws Pet Insurance
You can read my review of Healthy Paws Pet Insurance here. They're best known for exceptional customer service.
This is my #1 recommendation for pet health insurance.

Don't Let This Happen to You
Don't risk your pet's health, or your wallet, by nnot getting pet insurance.  Pet Health Insurance really can be quite affordable.  And when you consider what happened to me with little Taz, I think you'd agree it's too risky not to have it.
For More Information, Read My Articles:
Is Pet Insurance Worth it for Cats?
Is Pet Insurance Worth it for Dogs?
I Donate to Animal Charities
Thank you for visiting my website.  I donate 10% of earnings from website to animal charities.  You can see a list of the charities I donate to here.  If you like this website, please share it with your friends and family who have a dog or cat.  Thank you!  Debra
For More About Pet Health,

CLICK HERE