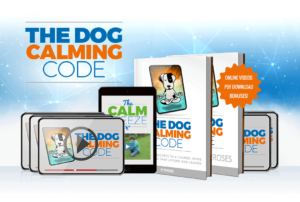 Professional Dog Trainer and Behavioral Specialist, Doggy Dan, has developed a step-by-step dog training program called The Dog Calming Code, specifically made to stop dog aggression.  According to Doggy Dan, if you want to understand how to train an aggressive dog, you must first realize that your dog is making his own decisions and will not listen to you if you try to show him a different way to behave.
What he is doing is simply too important to him and he thinks it's the right thing to do. Dog aggression almost always happens because the dog is trying to protect you, their pack, or their own lives.

Types of Dog Aggression
There are many different types of aggression from dominant, to fearful, and everything in between. If you want to learn how to train an aggressive dog, it is important to determine whether the aggression is "all the time," or just sometimes, and also to look at what your dog is aggressive towards – it could be people, animals, other dogs or objects.
Dominant dogs will be more proactive, often attacking when they still have the option of running away. Fearful dogs will only attack if they have no place to run.
You Have to Be the Pack Leader
The most important concept to grasp is that your dog must look to you as the pack leader. (see article How to Be The Pack Leader). You need to convince him that you are the decision maker. Only then can he relax and not feel the need to take it upon himself to be the protector.
Once you have convinced your dog that you are the pack leader, then upon reaching the point where he is usually aggressive you will find that he will actually start to take notice of how you are behaving! Once he sees YOU as the decision maker, he won't just act – he'll look to see how YOU are acting, then copy you. Remember, dogs are pack animals and they follow the pack leader.
To Get Help
One of the best examples of a professional dog trainer putting this into practice can be found at The Online Dog Trainer.  This website has live videos showing dog training being demonstrated step-by-step.  CLICK HERE to read my review, and get more information.

Who is Doggy Dan?
Doggy Dan is a Professional Dog Trainer and Behavioral Specialist, and the creator of the dog training website, TheOnlineDogTrainer.com.  The site has more than 300 videos where you get to see Doggy Dan working with dogs and their owners.  He offers a $1 three-day trial to the website and a monthly membership for $37.  It's been my #1 recommendation for dog training for more than seven years because it is effective and affordable.  You can read my full review here.

Donate to Animal Charities
Thank you for visiting my website.  I donate 10% of all commissions I earn on this website to animal charities.  You can see a list of the charities I donate to here.  If you like this website, please share it with your friends – every purchase helps animals!
For more about training your dog, click

HERE