I think the best way to explain the importance of establishing a routine for your puppy is to tell you about a little boy named Erin who came to visit at my house when I was a kid.  Watch my video below, or keep reading!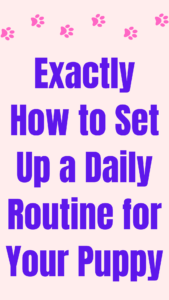 In this post, we'll cover:
Establishing a Routine for Your Puppy
Why Puppies Need a Daily Routine
When to Start Making a Schedule for Your Puppy
Establishing a Regular Feeding Schedule for Your Puppy
Making a Consistent Potty Schedule for Your Puppy
Setting a Schedule for Play and Exercise for Your Puppy
Establishing a Consistent Bedtime Routine for Your Puppy
My #1 Recommendation for Effective, Affordable Puppy Training

Free Puppy Schedule Tutorial
Professional Dog Trainer, Doggy Dan, has put together a free, step-by-step puppy schedule tutorial called, 8-Week-Old Puppy Schedule: Ultimate Guide to Training Your New Puppy.

Establishing a Routine for Your Puppy
Erin's home life wasn't great.  His parents made very little money, and to make things worse, his dad was a full-blown alcoholic which, of course, caused unending turmoil and upset in the household.  As a result, Erin and his two siblings didn't receive much consistency in their lives in the form of discipline, routine, security, or even proper nutrition, for that matter.
My parents were friends with Erin's parents.  My mom and dad often tried to help Erin's parents.  Once summer when they came to visit, Erin was having so much fun with my brother, Bill, that he asked if he could spend the night.  Erin and his family lived about two hours away, so my parents agreed to him stay the week and agreed to take him back home the following weekend.
Erin quickly became a part of our family's routine.  My mom encouraged (ok, MADE) us brush our teeth each morning, put our dirty clothes in the hamper, help set and clear the table at dinner time, help with the dishes.  At bedtime we were to put our pajama's on, brush our teeth, get a drink of water – and we had a specific bedtime.  My mom quickly realized that Erin was enjoying all of this.  He actually asked her one night, "Is it time to brush our teeth?"  Compared to his unstable environment at home, this very regimented way of life was a welcome and reassuring change for Erin!

Sign up for details about the 
Perfect Puppy Program
 created by Doggy Dan, Professional Dog Trainer and Behavioral Specialist, and creator of the dog training website, The Online Dog Trainer.

Puppies Need a Daily Routine!

I think the most important thing you can give your puppy (besides love and affection) is consistency.  They need to know what to expect next.  If they have no routine, and everything is different every day, and nothing is ever the same, nothing is ever repeated, nothing is ever regular, then they will be living in chaos and it will result in upset, insecurity, fear, anxiety – whereas regular, consistent routines result in a calm, confident puppy.
When to Start Making a Schedule for Your Puppy
The best time to start establishing a daily routine for your puppy is…AS SOON AS POSSIBLE!  As soon as you bring your new puppy home, he should be able to start counting on things.  If you're consistent, he'll learn much more quickly what is expected of him, and when.  A routine will also help to establish you as the pack leader (see my article, Best Way to Train Your Dog) – which is crucial to effective training and having a well-behaved dog.
Puppy Vaccination Schedule
Getting information on setting a puppy immunization schedule should also be one of the first things on your list.  The AKC (American Kennel Club) has a fantastic resource all about puppy vaccinations.  Which ones are needed, what they're for, and when your puppy should get each shot.  You can access that here.  You can also request their free, printable puppy vaccination schedule here.
Establish a Regular Feeding Schedule for Your Puppy
Having regular feeding times will not only help your puppy to have a sense of security, of knowing his needs will be met (that he won't go hungry), but it will also help with potty training because his food intake will take place on a regular schedule.  Small puppies should be fed three times per day, then twice a day once they get older.
For more information about feeding your puppy, read my articles:
Feeding Your New Puppy – Proper Puppy Nutrition
Best and Worst Foods for Your Pet
Make Potty Times Consistent for Your Puppy
Potty training your puppy isn't always easy but establishing a schedule for this right from the beginning will definitely help (as will this article, Toilet Training a Puppy).
Always take your puppy to the same place to go potty – ideally a spot in the yard that's not too close to the house/door/patio.  Never leave your puppy unattended outside when he's young.  And even when he's older, make sure you're keeping an eye out while he's outside.
Taking your puppy outside first thing in the morning, after each meal, then right before bed is a good habit to get into.  And again, he'll appreciate the routine and knowing he will be let out again soon.
Most important for potty training – consistency!
Provide Play and Exercise Regularly for Your Puppy
Playtime and exercise should be a regular part of your puppy's daily life.  Not only to keep him physically fit, but to aid in his growth and development.  Playtime and exercise will benefit your dog all through his life – from the first few months of life where this time is spent doing things like leash training, basic obedience, etc., – all the way up to his golden years.  Not to mention the added benefit to YOU of it tiring the puppy out so he'll sleep at night!  LOL
Establish a Consistent Bedtime Routine for Your Puppy
You should, as a family, decide where your puppy will sleep, then be consistent with that.  I think once your dog gets older, you can allow him to choose where he'd like to sleep.  Our poodle, Pepi, for example, would take turns sleeping with each of us kids each night.  He'd come into my room, jump on my bed, and sleep a while.  Then he'd jump down, walk down the hall, jump up on my sister's bed, and sleep with her a while.
Then…you guessed it…he'd leave her room, go to my brother's room, and sleep with him a while.  Did he ever sleep with my parents?  NO!  My mother would've never have allowed a dog on her bed!  LOL
I've had an animal of one sort or another in my bed since childhood.  (Go ahead…make the jokes…Ha!)  Seriously, every cat I've ever owned has slept in bed with me, and several dogs. I even snuggled up one night in (a twin!) bed with my parents' Doberman, Nicki.  But when they're little, you really do have to give them one spot to sleep in and be consistent in enforcing that.  At their young age, they really need the consistency of sleeping in the same place every night.
The Best Puppy Training Advice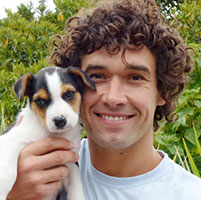 I can't possibly end this article without telling you about an online dog training website called
The Online Dog Trainer,
where professional dog trainer, "Doggy Dan" has a video series called, "Project Moses."  Doggy Dan films himself training his new puppy, Moses, from when he gets him at 8 weeks old, all the way up to when Moses reaches one year old.
I love Doggy Dan.  If you'd like to see more of the 250+ training videos on The Online Dog Trainer website, CLICK HERE.
In the meantime, enjoy your new puppy!  I personally think dogs are one of the biggest blessings we could ever receive. They're all joy, and all love.  Be good to him and love him, and your rewards will last a lifetime!

Sign up for details about the 
Perfect Puppy Program
 created by Doggy Dan, Professional Dog Trainer and Behavioral Specialist, and creator of the dog training website, The Online Dog Trainer.

I Donate to Animal Charities
Thank you for visiting my website.  I donate 10% of my earnings to animal charities.  You can see a list of the charities I donate to here.  If you like this website, please share it with your friends and family who have pets.  Thank you!  Debra
For More About Puppy Training, CLICK HERE.