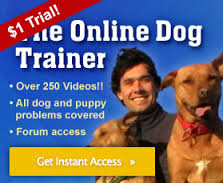 TheOnlineDogTrainer.com has the best prices for dog and puppy training, plus the convenience of doing the training on your own time, in your own home.  We'll talk about this in more detail in this article (watch my video below), but here are the prices:
$1 for a 3-day trial 
$37 per month
$147 for 6 months
$198 for 12 months

Compare to the Average Cost for Dog Training
Group dog training classes run about $30 to $80 per class.  Private dog training sessions cost between $45 and $120 per hour.  Dog obedience training schools cost between $200 and $600 per week.  Boot camp kennel training runs between $500 and $1250 per week.  The price you'll pay for training service dogs (for support, therapy or protection), is about $120 per hour.
Online Dog Training is Way Cheaper (and Better!)
I recommend online dog training because it's the most affordable dog training.  It's convenient because you can do it in your own home, on your own time, and with the whole family.  And it's super effective.  Most online dog training video-based websites start at around $40 per month for access.
I've researched various online dog training programs, and my #1 recommendation is The Online Dog Trainer, owned by Doggy Dan, a Professional Dog Trainer and Behavioral Specialist.  Doggy Dan's website has more than 300 step-by-step videos dealing with every dog behavior issue you can think of.  He has complete puppy training programs, dog obedience programs, pack leader programs – and a searchable forum where you can easily find videos for things like excessive barking, leash training, potty training…all videos where you get to watch Doggy Dan himself actually training dogs and working with dog owners.
You can see Doggy Dan in action and read my full review of The Online Dog Trainer HERE. You can also learn more about online dog training by reading my article, Online Dog Training vs Hiring a Professional Dog Trainer HERE. 
How Much Does it Cost?
$1 for three days of full access
$37 per month, or
$147 for six months (=$24.50/mo), or
$198 for twelve months (=$16.50/mo)
Doggy Dan offers a three-day, $1 full access membership to his dog training website. Once you've decided to stay on after the 3-day trial, you pay $37 per month.   When comparing online training websites, you'll find The Online Dog Trainer has significantly more content. There's no doubt that paying $37 a month to have a professional dog trainer in your home 24/7 is worth every cent!  But it gets better!
If you pay for a six-month membership, the cost is $147.  That's $24.50 per month!  Any even better…you can choose a 12-month membership for $198.  That works out to $16.50 per month!  Seriously, where can you possibly get a full year of professional dog training for $16.50 per month?

What to Expect
Doggy Dan's three-day $1 trial is really a stand-out feature, and an amazing offer from Doggy Dan. For me, being able to see what the site looks like before committing to the monthly cost is a MASSIVE benefit. The $1 trial lets you check out the entire site and gives you a feel for how the site works and what you are getting.  After having a look around, you'll immediately understand that you have some work to do.
There's no magic potion to solve all your dog's issues.  You have to watch the videos and learn, put the techniques into practice, keep watching to make sure you're doing it correctly, then once you get past the first couple of steps, you can get onto the next phases of the training. You'll know exactly what is involved before you commit.  And you get all of it for a fraction of the cost of a dog trainer coming to your home. Honestly, it really is a no-brainer.
Money Back Guarantee
You have nothing to lose. The Online Dog Trainer not only offers a $1 three-day trial, but they also offer a 60 day money back guarantee if you purchase the monthly membership, then change your mind.
I Donate to Animal Charities
Thank you for visiting my website.  I donate 10% of all commissions I earn on this website to animal charities.  You can see a list of the charities I donate to HERE. To find out about ways you can support this website, click HERE. If you like this website, please share it with your friends – every purchase helps animals! Debra 🙂
For More About Dog Training,

CLICK HERE
Resource used for cost info:  https://homeguide.com/costs/dog-training-cost