When it comes to choosing the best dog Halloween costumes, it's imperative that your dog's comfort and safety are top priority.  In this article, we'll discuss several factors you should consider before choosing a Halloween costume for your dog, and how to determine whether it's safe and comfortable for your dog.
Is it Cruel to Dress Up a Dog for Halloween?
Professional Dog Trainer and Behavioral Specialist, Doggy Dan, has written a full tutorial on whether you should dress up your dog for Halloween and what comfort and safety issues to consider.  We'll be using his tips for the remainder of this article, but you can go directly to his tutorial if you'd like.

Dog Halloween Costumes
First, every dog is different.  Some dogs will tolerate this, and others won't.   Some dogs will be extremely uncomfortable or even afraid to have some sort of clothing or costume on.  It's important to see how your dog reacts to wearing clothing of any sort.
6 Signs Your Dog Doesn't Want to Wear a Costume
1.  Their tail goes between their legs. This is a definite sign that your dog is unhappy, fearful or stressed out.
2.  Panting.  Heavy panting is always a sign of a dog experiencing stress or anxiety.  If your dog is panting (and it's not hot weather), or if they're not running around, consider if they're ok in the costume.
3.  Biting or snapping.  Even the most relaxed dogs can quickly start biting and snapping if they feel uncomfortable, afraid or stressed out.  So if your dog isn't his usual gentle self, it's likely he's not happy in the costume.
4.  The dog can't or won't move.  Most dogs are not used to wearing clothing.  So a full-out costume may make them feel like they're trapped or paralyzed.  If your dog can't or won't move around in the costume, please take it seriously and don't make them wear it.
5.  Rubbing on the floor or chewing on the costume.  Your dog may try to get the costume off by chewing on it or rubbing on the floor.  This is a definite sign that your dog is not happy and can even lead to panic for some dogs.
6.  Whimpering or whining.  This is a dog's equivalent to crying.  If they're whining or whimpering, they're clearly upset or distressed about being in the costume.
If Everything Seems Good
If your dog isn't showing any of theses signs of being uncomfortable in the costume, there's a good chance they'll tolerate it.  But please make sure to follow these rules:
1.  Be sure to keep an eye on the dog's behavior throughout the night.
2.  If at any point you see any of the signs of the costume becoming uncomfortable for your dog, please take it off immediately.
3.  Never leave a dog alone in a costume or outfit of any kind.
Halloween Safety for Dogs
Please visit Doggy Dan's tutorial to get detailed information about these important points to consider when dressing your dog up for Halloween:
Pay Attention to the Costume Material
Make Sure the Costume Fits Appropriately
Beware of Beads, PomPoms, and Plastic
Be Mindful of Your Dog's Body Temperature
Never Leave Your Dog Alone in a Costume
Make Sure Your Dogs Eyes, Nose, and Mouth are Uncovered
Less is More
And please, share this post on social media and with your friends who have dogs!

Be Safe and Have Fun!
Halloween is meant to be a fun time for everyone—including dogs!
There's no harm in dressing up your dog and letting them be involved in the festivities, as long as they don't mind participating.
But remember that Halloween can be a stressful and dangerous night for your dog.  Please watch my video, Halloween Safety for Dogs.   And check out this article by the AKC, 10 Best Dog Halloween Costumes,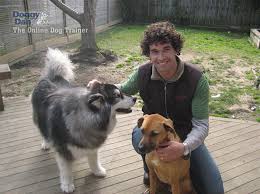 Who is Doggy Dan?
Doggy Dan is a Professional Dog Trainer and Behavioral Specialist, and the creator of the dog training website, TheOnlineDogTrainer.com.  The site has more than 300 videos where you get to see Doggy Dan working with dogs and their owners.  He offers a $1 three-day trial to the website and a monthly membership for $37.  It's been my #1 recommendation for dog training for more than seven years because it is effective and affordable.  You can read my full review here.

I Donate to Animal Charities
Thank you for visiting my website.  I donate 10% of my earnings on this website to animal charities.  You can see a list of the charities I donate to here.  If you like this website, please share it with your friends – every article and every purchase helps animals!  Debra