I found the Adaptil Dog Appeasing Pheromone Collar to be helpful for my elderly weiner dog.  I'll tell you her story plus give you a full review of this dog calming product.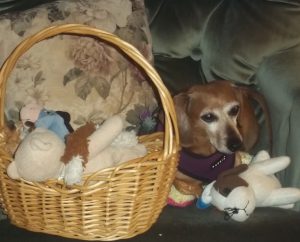 My little dachshund, Taz (that's her in the pic) has been displaying a lot of nervousness and anxiety the last few months. Mostly in the evening. She spends a lot of her evening walking and pacing and panting.  I became concerned about this and asked her vet why she might be doing this. Taz is 14 years old. She has lost her hearing almost completely, and is having more and more difficulties walking around without falling.
The doctor said that it's likely, in the evening hours when it's starting to get dark, that Taz is feeling vulnerable and anxious due to the fact that she can't get around well anymore and is losing her hearing (and likely losing her site as well).
Veterinarian's Suggestion
The doctor suggested using the Adaptil, D.A.P. (Dog Appeasing Pheromone) Collar to help Taz feel more calm and reassured. This product contains a pheromone – the same pheromone that female dogs with puppies create. When a female dog has a litter of puppies, her body puts out a scent – a pheromone – that gives the puppies a calming sense of reassurance. It lasts the entire six weeks that the puppies are nursing.
Some vets recommend using Adaptil for the entire first year of a puppy's life – to provide reassurance while they learn to make their way in the world! I love this whole idea. What better help is there than feeling like your Mommy is around when you're upset?
You can purchase Adaptil

HERE
More information About the Adaptil Collar
The Adaptil Collar is easy to use and convenient as it releases the dog appeasing pheromone constantly (even when the dog is outside). The dog's body temperature and close contact warm the collar and encourages the diffusion of pheromones into the local environment. It is essential the Adaptil Collar is in close contact with the dog's skin at all times.
The Adaptil Collar is Ideal For:
Puppy socialization, traveling, crating, kenneling, boarding, vet visits and training. It's also ideal for dogs who are afraid of thunderstorms. Taz isn't afraid of storms, but she has a terrible time riding in the car. She gets so upset! The Adaptil Collar is helpful for dogs who don't do well with being home alone. As Taz gets older, she seems to get more anxious about being home alone. This is another reason I wanted to try this product for her.
Sizes
There are two sizes of adjustable collars:
Puppy/small dogs (fits neck up to 37.5cm)
Medium/large dogs (fits neck up to 62.5cm).
The collars are pretty long – you cut them to size.
Each collar lasts up to 4 weeks and can be replaced as required.
My Rating of this Product
I think this is helping Taz.  We purchased one collar – she wore it for one month, and now we've replaced it with a fresh collar.  I plan to get her a fresh/new one every month.  The biggest difference I noticed is when we take Taz for walks.  She can't walk for long distances, so she rides in a buggy part of the time.  She was really nervous in the buggy and wouldn't sit still.  She would pant a LOT.
But with the collar, she's noticeably CALM.  She rides along nicely and seems to really enjoy the ride!  I've also noticed she's way better in the car since we got the collar.  She still pants, but she doesn't cry and whine, and she'll sit still for the most part.  It's been such a relief to have her ride in the car well.  It was so upsetting when she was scared in the car, not to mention dangerous!
I would recommend trying this product if your pet has any of the issues listed above.  I really do think it helps!
For more information about dog separation anxiety, read my article, Treating Dog Separation Anxiety.  For information about dog anxiety in general and how to reduce it, read my article, What is Dog Anxiety?
I Donate to Animal Charities
Thank you for visiting my website.  By the way, I donate 10% of earnings from this website to animal charities.  You can see a list of the charities I donate to here.  If you like this website, please share it with your friends who have pets.  Thank you!  Debra
For More About Dog Health,

CLICK HERE