If you need help finding out where to find a pet, this post will help you find a pet to adopt near you.  Below you'll see the picture that brought me to my darling Taz.  Several years ago, I adopted a stray miniature dachshund.  I named her Maggie and had 11 wonderful years with her.  So, when I decided to get another dog, I decided I'd like another female miniature dachshund.
So I went to PetFinder.com and searched and searched.  There were (so sadly), dozens of doxy's available for adoption.  But it took a while to find a miniature, female close to me.  I ended up driving about 90 minutes to the shelter where Taz was to get her.  But that was close enough.  I fell in love with my little midget the moment I saw her. Going to PetFinder.com to find the perfect pet for me ended up bringing me years of joy with this little dog!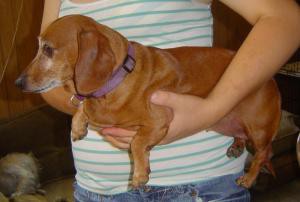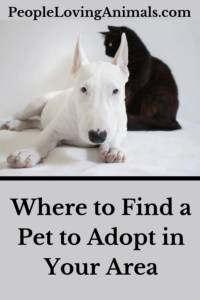 Help with Your New Pet
Here are some additional articles to help you with finding a new pet, and taking care of your pet:
Checklist for Choosing the Right Dog
How to Get Ready for a New Puppy Checklist
What Do I Need for a New Kitten Checklist
Inexpensive, effective dog/puppy training:
https://PeopleLovingAnimals.com/TheOnlineDogTrainer
Inexpensive, effective cat/kitten training:
https://PeopleLovingAnimals.com/CatTrainingGuide
You Might Also Try AdoptAPet.com
Another place where you can find a pet to adopt is AdoptAPet.com.  This is also a website where you can search for a pet to adopt in your area.
Why Adopt a Pet from a Shelter?
Pets who wind up in shelters usually come from homes where the owners had to move, got divorced, or couldn't afford to keep the pet.  So these pets are often already housetrained, and are often good with and used to kids or other pets.
I Donate to Animal Charities
Thank you for visiting my website.  I donate 10% of all commissions I make on this website to animal charities.  You can see a list of the charities I donate to here.  If you like this website, please share it with your friends – every purchase helps animals!  Debra