Dog anxiety, just like anxiety in humans, is something that most dogs experience from time to time.  But if dog anxiety becomes extreme and is left untreated, it can lead to anxiety disorder, behavioral issues, and health issues.  Learning what dog anxiety is and how to treat dog anxiety is important for your dog's health and wellbeing.
Dog Anxiety Symptoms
Some common signs of dog anxiety include:
Drooling
Panting
Pacing
Restlessness
Aggression
Peeing or pooping in the house
Destructive behavior
Excessive barking
Repetitive or compulsive behaviors
Depression
What Causes Dog Anxiety?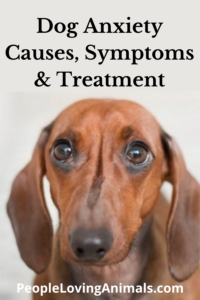 According to the American Kennel Club, there are three common types of dog anxiety:
Fear-based anxiety. This can be caused by things like strange animals or people, loud noises or new environments.  Fear in dogs can also be caused by mistreatment.
Separation anxiety.  This is a serious issue that happens when your dog is unable to cope with being alone or is unable to cope with your absence.  For more about dog separation anxiety, read my article, Treating Dog Separation Anxiety- Tips for Helping Your Dog to Be Home Alone.
Age-related anxiety.  Elderly dogs, just like elderly people, can suffer with age-related difficulties such as memory loss, confusion and physical ailments.  These sorts of issues can lead to anxiety for your dog.
How to Treat Dog Anxiety
The two most effective ways to treat dog anxiety are to talk with your veterinarian and to incorporate effective dog training to relieve your dog's anxiety.
Talk with your veterinarian.  You should always keep your vet in the loop whenever your dog's behavior concerns you, and certainly if they're exhibiting symptoms of dog anxiety.  Your veterinarian can help determine the cause of your dog's anxiety, especially if a medical condition is causing the symptoms.  We'll talk about treating dog anxiety with training and prevention techniques, but your vet may prescribe medications for dogs with anxiety or perhaps things like cbd oil for dogs with anxiety to help your dog in the interim. Never give your dog any sort of medication or supplement without your vet's knowledge and supervision.
Dog Training for Anxiety.  I recommend the dog training website, The Online Dog Trainer for help with dog training that will solve your dog's anxiety.  The site was created by Professional Dog Trainer and Behavioral Specialist, Doggy Dan.  Please take advantage of Doggy Dan's free tutorial, 5 Methods for Helping a Dog Overcome Anxiety:

Additional ways to calm an anxious dog, according to the Central California SCPA, include:
Exercising your dog.  Making sure your dog is getting enough exercise will help burn up excess energy and result in the production of stress-relieving endorphins.  Walking your dog and playing with your dog regularly also helps build love and trust between you and your dog.
Massage therapy.  Just like for humans, massage helps to relax and calm anxiety in dogs. To find out how to do dog massage therapy step-by-step, read my article, Dog Massage Therapy Training – Dog Massage Tips and Techniques.
Soothing music.  This can be helpful for dogs who suffer from separation anxiety, or anxiety in general.  I suggest checking out dog relaxation music videos on YouTube.
Dog anxiety jacket.  These are calming t-shirts or coats designed to calm your dog by providing constant pressure to your dog's torso, resembling being hugged or swaddled.  You can find a selection of these HERE.
For more information about dog anxiety and how to solve it, read my article, How to Calm Dogs with Anxiety – Why They're Anxious and How to Solve It.
Dog Anxiety Should Not Be Ignored
It's normal for dogs to experience anxiety at some point in their lives.  But it's important, as responsible pet owners, to educate ourselves about the causes, symptoms and treatment options for dog anxiety to ensure our dog's happiness and wellbeing.  Remember, if your dog is exhibiting any of the symptoms of dog anxiety discussed in this article, it's best to give your veterinarian a call.
I Donate to Animal Charities
Thank you for visiting my website.  I donate 10% of all commissions I earn on this website to animal charities.  You can see a list of the charities I donate to here.  If you like this website, please share it with your friends – every purchase helps animals!  Debra 🙂
For More About Dog Training, CLICK HERE