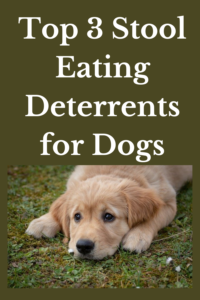 Dogs eating poop, otherwise known as Coprophagia, is common.  It can also be dangerous to your dog's health.  Please refer to this article,
"How to Get a Dog to Stop Eating Poop – Why They Do It and How to Stop It"
for a thorough explanation of the reasons why dogs eat poop, and how you can stop it. You can also watch a
video
at the end of this article.
One of the ways you can stop your dog from eating poop is by using a stool eating deterrent.  This is a supplement that comes in the form of a chew or powder that alters the taste and odor of feces in a way that actually makes your dog repulsed by it.
They contain a wide range of ingredients that support a dog's digestive health, so not only do they make poop less attractive to your dog, but also supply your dog with the nutrients he might be lacking – which may be the reason why he's eating poop to begin with!
Top 3 Stool Eating Deterrent for Dogs
1. NaturVet – Coprophagia Stool Eating Deterrent
Helps deter dogs from consuming their own stool or other dogs' stool (if given to all dogs in the household).  For use in dogs over the age of 12 weeks.

Enhanced with a unique blend of Yucca, Parsley, Chamomile and a Proprietary Enzyme Blend.

Helps support the reduction of unpleasant pet odors while helping to freshen your pet's breath. Tasty soft chews that taste like a treat, packaged in a re-sealable jar to ensure freshness.

Wheat Free, NASC, cGMP Compliant, Manufactured in the USA

2.  For-Bid Stool Eating Preventative for Dogs
Safe, Effective, and Vet Recommended: For over 40 years vets have recommended For-Bid to pet owners to effectively and safely deter their loved ones from unhealthy habits.

The original, First product of its kind on the market. 40 years of satisfied customers has set For-Bid as the industry standard for Anti-Coprophagia treatment

‍FOR-BID does NOT alter the normal digestion of your pet, nor does it alter the flavor of their food. FOR-BID is recognized as safe by the U.S. Food and Drug Administration, and will not alter the taste or scent of the food to which it is applied

Helps reduce unpleasant pet odors, including bad breath. FOR-BID helps keep your pet both clean and healthy by deterring repellent behaviors

MADE IN THE USA with only the highest quality ingredients. FOR-BID is made in the U.S. with only safe, high quality ingredients shown to be safe by the FDA.

3.  Vetrinex Labs Probiotics for Dogs Coprophagia
Improved Pet Health In Just 2 Weeks: Strengthened digestive tract and immune system function will have your pet exhibiting more energy and a renewed vitality; a shinier coat, healthier skin and teeth, and no bad breath, loose stools or excessive gas

Get To The Gut Of The Problem: Quickly and safely eliminate the cause of your pets diarrhea, ear / urinary / yeast infections, after antibiotic treatment, constipation, allergies, itching fur & scratching, hot spots, as a tear stain supplement, coprophagia, help dogs stop from eating their own stool, gas, upset stomach, IBD and bowel related problems

No Fuss, No Mess, Great Taste: Dispenses quickly with included scoop; No capsules to break, no chewable tablets or pills to hide; Tasteless and odorless powder, just sprinkle it on your pet's food and watch them get healthier with every meal! Vegetarian; Grain Free; No Gluten; No Soy; No Fillers; Non Dairy; No Animal Digest; Active Cultures; All Natural Nutritional Supplement; Safe; High Quality; Made in USA

Maximum Effectiveness: Potent 3 billion CFU blend of 7 carefully selected species of live beneficial bacteria with added Inulin to support microorganisms for maximum effectiveness. No "Proprietary Blend" to mislead you

Best Value: At 180 Billion CFU / up to 120 Servings per jar, our complete formula lasts many months. Some animals are more sensitive to probiotics and we recommend reduced (half) dosage to them for the first week.

Cautions and More Information
Please consult your veterinarian before giving your dog these, or any other supplements or medications, especially if your dog has a medical condition or is taking medications of any sort.  I am not a veterinarian.
Watch the video below for more help!
I Donate to Animal Charities
I earn a small commission if you make a purchase using the links contained in this article.  I donate 10% of all commissions earned from this website to animal charities.  To see a list of charities I donate to, CLICK HERE.  If you like this website, please share it with your friends – every purchase helps animals!  Debra