A few days ago, I was flipping through a magazine and saw a full-page advertisement for something called, The Purple Leash Project.  What caught my attention was the statement in the ad:  "48% of Domestic Violence Victims Don't Leave Because They Can't Bring Their Pets."
I was shocked and nearly brought to tears.  Shocked because I had no idea that so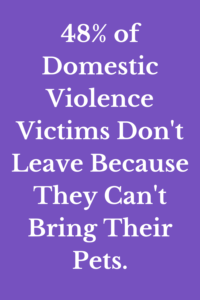 many domestic violence victims were facing having to leave their pets behind if they left.  And brought to tears because this hits home with me.  I left a long-term relationship when I was in my 20's and had to leave my beagle, Daisy, behind.  I was unable to find an apartment I could afford that would allow me to have her, and I had no other options.
I was heartbroken and remain heartbroken to this day.  Honestly, leaving that little dog was way more painful for me than leaving the man who wasn't physically violent, but had spent years mistreating me.  I still feel guilty about it, and that was more than 30 years ago.
What is The Purple Leash Project?
The project is best described on Purina's website: "The Purple Leash Project was born out of the Purina mission to bring and keep pets and people together and the RedRover® mission to bring animals and their owners from crisis to care…We envision a world where no one is trapped in abuse because they can't take their whole family with them."  Click here to watch their video.
They're doing this by awarding grants to help domestic violence shelters to accept pets.  They use volunteers to help with the process and join with others to offer ongoing support for survivors with pets.  For much more information, visit Purina's website HERE, or RedRover's website HERE.
Domestic Violence Statistics
Domestic violence statistics show an estimated 1 in 3 women and 1 in 4 men will experience some sort of domestic abuse in their lifetime.  Only 15 percent of domestic violence shelters accept pets.  I was also shocked to learn that more than 70 percent of women in domestic violence shelters say that their abuser injured, threatened or killed a pet as a means of control.  So not only are victims not leaving a violent situation for their own well-being, but for the safety of their pets as well.
Pet-Friendly Domestic Violence Shelters
Today, 48 out of 50 states have at least one pet-friendly domestic violence shelter, but that's far too few.  The goal of The Purple Leash Project is to have 25 percent of domestic violence shelters pet-friendly by the year 2025.  Purina has already donated over $1 Million to support the project.
The Purple Leash Symbol
Purple represents domestic violence awareness, and the leash/collar represent the unbreakable bond between people and their pets.  (I love how they have the purple leash for dogs, and that cute purple collar for cats!)
How to Donate to The Purple Leash Project
Making a donation will help the Purple Leash Project to assist domestic violence shelters to make the necessary renovations and changes to become pet friendly.  If you commit to a donation of $5 monthly, or make a one-time donation of $60 or more, you'll receive a purple leash or cat collar as a thank you for your support.

Other Ways You Can Help
Share. You can help spread the word about this project by sharing this pdf with your friends and family and on social media.
Volunteer. Volunteers play an important part in RedRover's work to shelter pets during emergency situations and prevent pet abuse through education.
Get help.  If you or someone you know is in an abusive situation and needs domestic violence help, call the Domestic Violence Hotline 24/7 at 1-800-7233 (SAFE).
Visit SafePlaceForPets.Org to find pet-friendly domestic violence shelters for yourself or the person you're helping.
Perhaps you could offer to foster a pet until the person gets back on their feet or ask a family member or friend to foster your pet if you are the victim.
Please Help if You Can
People who are being forced to leave their home in order to escape domestic violence are already going through so much stress, turmoil and pain.  Their pets can provide companionship, security and unconditional love during this painful transition.  For many victims, leaving a pet behind is the same as leaving a family member behind (that's my Daisy in the pic).  Please do what you can to support this project's mission to help people and their pets escape domestic abuse together.
I Donate to Animal Charities
Thank you for visiting my website.  I donate 10% of all commissions I earn on this website to animal charities.  You can see a list of the charities I donate to here.  If you like this website, please share it with your friends – every purchase helps animals!  Debra 🙂
For More About Pet Care, CLICK HERE