I've always seen spring as an opportunity for a fresh start, renewed hope, longer days and a welcome relief from a cold, hard winter!  I look forward to opening the windows and getting fresh air in, putting away all the heavy winter clothes, and I look forward to spring cleaning because it's a way to freshen up the house, like a fresh start for every room!  In this post, we'll cover several spring cleaning tips for pet owners, pet safe cleaning products, and I'll also provide links to two easy-to-follow spring cleaning checklists.
Is Spring Cleaning Safe for Pets?
Spring cleaning is safe for pets as long as you make sure to keep your cleaning products away from your pets and be careful not to use any cleaning products that are not safe for pets.  Also remember to keep your pets' safety in mind as you start opening windows and doors to let the fresh air in.  Make sure window screens are intact and be careful your pet doesn't get outside unexpectedly.
Pet Safe Cleaning Products
When you shop for cleaning products, always look for products that clearly show they're safe for pets.  You can find a variety of pet safe cleaning products here.
According to TheSprucePets.com, there are certain ingredients that are toxic if ingested or inhaled by pets.  You should avoid products containing the following:
ammonia
chlorine
bleach
hydrogen peroxid
alcohol
phenols
formaldehyde
quaternary ammonium
phthalates
If you don't know whether a certain product is dangerous, check the label.  Most cleaning product manufacturers will label potentionally dangerous products with things like, "Warning," "Danger," "Caution," or "Use in a well-ventilated area."
If you do choose to use any potentially dangerous products, remove your pets from the area while you're cleaning, then make sure the surfaces dry completely.  Also ventilate the area by opening a window for several hours before allowing your pet to return to the area. Also remember that strong smells can be terribly uncomfortable for pets, especially cats.
You can see a list of household products that are poisonous for pets at ASPCA.org.  You can also visit the ASPCA's Animal Poison Control Center here, for information on a variety of substances, not just cleaning products, that can be poisonous for pets.
If you suspect your pet has been exposed to any poisonous substances, contact your veterinarian or call the Animal Poison Control's hotline at (888) 426-4435 immediately.
Spring Cleaning Tips for Pets
Here are a few tips on what you should do for spring cleaning when you have pets.
Vacuuming.  I always vacuume once per week to remove dirt, pet hair and kitty litter.  Every spring and fall, I'll use the vacuum cleaner attachments to vacuum corners and along baseboards.  I also shampoo my carpets in the spring and fall.  I have a nice Bissel Carpet Cleaner I've had for more than 10 years that's super easy to use.  You can get it one here.  Be sure to use a pet-safe carpet shampoo.  You can find several here. 
It's also important to keep your carpets vacuumed to remove fleas and flea eggs.  And remember spring also starts the flea season.  If you need help preventing or getting rid of fleas, read my article, How to Get Rid of Fleas (includes video).
If you don't have carpet, you'll want to keep floors clean with a pet-safe floor cleaner.  You can find some here.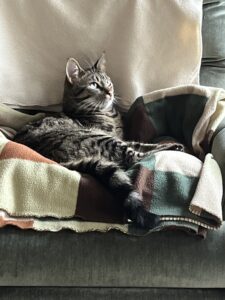 Wash Your Pets' Bedding.  I use sheets or small blankets to cover my pets' beds.  I wash them once a week.  That does an amazing job of getting rid of pet hair and pet odors.  Every spring and fall I wash the pet beds themselves.  Most can be washed in your washer with regular detergent.
Avoid using fabric softeners on your pets' stuff.  They usually have a strong smell that is uncomfortable for pets.  My cat, Whiskers, will not sleep on a bed or blanket that's been washed using fabric softener!  That's him in the pic with his clean blankies.
Wash your pet's blankets regularly, at least once a month.  It makes a big difference in keeping your house pet hair and pet odor free!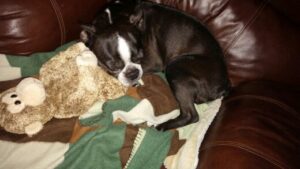 Wash Your Pets' Toys.  You can fill the sink with soapy water and wash your pet's toys in the spring and fall.  Make sure you rinse them well to remove all the soap.  Most cloth pet toys can be washed using your washer and dryer.  I had a Boston Terrier named Cagney who had a stuffed monkey he adored.  I'd wash it regularly because it got really dirty and smelly from all the dog slobber!  That's Cagney in the pic with "Monkey."
Wash Feeding Areas.  Obviously we need to keep our pets' food and water bowls washed all year long.  I wash my pets' bowls with soap and water once a week.  For spring cleaning, you may want to wash the entire feeding area, including the floor or matt, with soap and water.
Clean Other Places Your Pet Sleeps.  Spring is a good time to give your dog's crate a good cleaning.  Also wash or shampoo any rugs your pets regularly lay on.  Whiskers has a carpet cat tree.  The top of it gets absolutely filthy!  You can vacuum these with your vacuum attachments.  I also actually wash it by hand with a washcloth regularly.
Wash the Litter Box.  Scooping the litter box daily is a good habit.  But the litter box also needs to be emptied and washed with soap and water.  Spring and fall are a good time to do this, or more often if yours gets stinky.  Do not use bleach when washing the litter box.  Soap and water is sufficient, and the smell of bleach is terribly offensive to cats.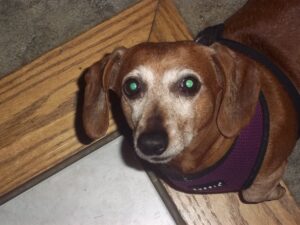 Wash Their Collar.  We take our dog's collar off when we give them a bath, but do you remember to actually wash the collar?  I had a Dachshund named Taz who wore a harness (which I strongly recommend for dogs instead of a collar).  That's her in the pic.  Her harness would get quite dirty because she was so low to the ground.  And if you've ever owned a Doxy, you know they have a particular odor.  I called it, "Dachshund Sweat!"
Both the dog and her harness needed regular baths. By the way, the Puppia brand harnesses are nice.  They're made of a comfortable fabric, fit well, last a long time and are machine washable.  You can get these here.
Clean Up the Yard.  It's usually necessary to do some lawn clean up in the spring.  Make sure you're not using products in your yard that are toxic for your pets.  Also make sure you're taking steps to keep your yard free of ticks and fleas.  Here's a nice article from PetMd.com about keeping your yard safe for your pets.
And if you've put it off all winter, clean up the poop!  Either rake the yard or use a pooper-scooper to give your dog a fresh lawn for spring!
Spring Cleaning Checklists
You can get a free, room-by-room spring cleaning checklist from Pottery Barn, here.  Or a free, printable spring cleaning checklist from Molly Maid, click here.
I also found a nice article from the ASPCA with springtime safety tips for pets.  You can see it here.
Please Share!
Please comment below if you have more tips for pet owners about spring cleaning.  Also, please pass this article along to fellow pet owners and share it on social media.  Others may appreciate these tips as well!
I Donate to Animal Charities
Thank you for visiting my website.  I donate 10% of my earnings on this website to animal charities.  You can see a list of the charities I donate to here.  If you like this website, please share it with your friends who have a dog or a cat.  Thank you!  Debra
For More About Pet Care, CLICK HERE