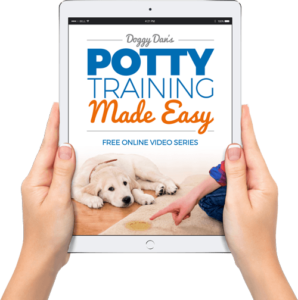 When a baby needs to go, they go. And so it is with puppies! You have to get them outside before they pee inside. That is your job! If you fail, then there's nobody to blame but you. So what is the best way to potty train a puppy fast?  Follow these steps and you'll be successful!

How to Show Your Puppy Where to Pee
The best way to show your puppy where you want them to pee is to show them the correct place. The best way to do this is to take them out when they need to go and then praise them when they go. You will be amazed how quickly they will learn if you give them an amazing treat for going in the right place. Think of it like this: if the treat is a little piece of cheese, your puppy will start looking for the cheese after only a few pees in the correct place. He'll remember – it's true!

Sign up for details about the 
Perfect Puppy Program
 created by Doggy Dan, Professional Dog Trainer and Behavioral Specialist, and creator of the dog training website, The Online Dog Trainer.

You Have to Take Them Out Often – A Puppy's Bladder is Very Small
At a very young age, eight weeks or so, a puppy's bladder is very small and they can only hold on for sometimes 30 minutes or so before they may need to go again. So you must be vigilant.
After a meal, puppies will often need to go within 60 seconds so always take them straight outside. You should also take them outside as soon as they wake up, and also the last thing at night before bed.
Be Consistent with Commands

Associate a word that everyone in the house sticks to such as, "go pee-pee!" This way your puppy will start to hear the word and know what it means.
If your puppy does not go when you take him outside, then be aware that he may still need to relieve himself soon and restrict his movement to a smaller area that is easy to clean until he is taken outside and actually goes.
Never Rub His Nose in It!
You should never rub a puppy's nose in it to teach it a lesson. A puppy's nose is 1000 times more sensitive than a human's and this will never teach them not to do it again. They will simply not know what they did wrong and do it out of sight the next time – such as behind the couch – to prevent getting the same punishment again.
For More Help
There are lots more tips and tricks that can assist you. These are the real basics. Take a look at The Online Dog Trainer for more fantastic advice about how to stop any puppy issue. The Online Dog Trainer teaches every aspect of dog training with simple, step-by-step videos. They give you a 3-day trial for only $1 so you can see everything before you decide to sign up.  You can go directly to Doggy Dan's potty training program, "Potty Training Made Easy."

I Donate to Animal Charities
Thank you for visiting my website.  I donate 10% of all commissions I make on this website to animal charities.  You can see a list of the charities I donate to here.  If you like this website, please share it with your friends – every purchase helps animals!  Debra
For More About Puppy Training, CLICK HERE.