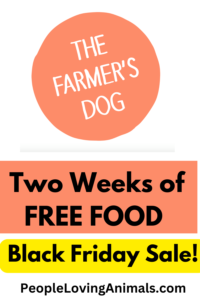 The Farmer's Dog is a monthly subscription for fresh dog food delivered to your home with fresh dog food recipes created specifically for your dog.
It's Smarter, Healthier Dog Food, it's Real Food, Made Fresh and Delivered.
Rating: Awesome (Seriously).
They're having a Black Friday Sale! They'll be offering a 100% off discount on trial orders (about two weeks worth of food!) This trial order is usually 50% off, but it will be TOTALLY FREE for Black Friday! Click here to read my full The Farmer's Dog Review.