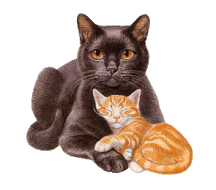 Here's what you'll get when you sign up for the free cat training information:
1.  Full tutorial with free video, "How to Train a Cat."
2.  Free video, "How to Train Your Cat to Stop Biting."
3.  Free video, "How to Get Your Cat to Use the Litter box."
4.  Full review of Ultimate Cat Secrets cat training program.

Cheap, Professional Cat Training Program
Ultimate Cat Secrets is a 12-part training program that covers every cat behavior issue you can think of.  It's super easy, thorough and effective.  It's only $37, and 100% guaranteed or your money back.


Check Your Email!
You will receive the first video immediately upon signing up, then one video per day in your email.  Check your spam if you don't see the videos in your email.  Thank you!  Debra