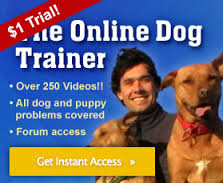 Chewing inappropriately is a fairly common issue.  Puppies use their mouths as a way of exploring things.  Chewing is a normal behavior, but it can be a problem if they're chewing objects such as your shoes, furniture, or YOU! If this habit isn't corrected early on, it can lead to the destruction of your property on a very large scale, not to mention medical problems for the dog if they're eating stuff they chew.  And it ruins your relationship with your puppy as well.  So learning how to get a puppy to stop chewing furniture (and everything else!) should be considered an urgent priority.

Sign up for details about the Perfect Puppy Program created by Doggy Dan, Professional Dog Trainer and Behavioral Specialist, and creator of the dog training website, The Online Dog Trainer.

Possible Causes for Puppies Chewing

Show them what to chew on.  The best way to encourage appropriate chewing is to provide chew toys for your puppy to enjoy.  You can find a nice selection of inexpensive puppy chew toys HERE.  Make sure you're giving toys that are appropriate for puppies, and make sure the toy doesn't have any small parts that can be broken off and swallowed.  I don't recommend rawhide or bones for puppies or adult dogs because they can be chewed down into smaller pieces that can be choked on.  Toys like nylabones and greenies are appropriate for puppies, and dental chew sticks are also good since they also help combat dental disease.  Again, you can find a selection of such toys HERE.

Redirect them if they're chewing on something they shouldn't.  If you've followed the steps we've already talked about, then you've already minimized the amount of stuff your puppy can get his paws on!  But if you do find your puppy chewing on something that's not his, redirect the dog to one of his own toys.
Lastly, engage in playtime with your puppy.  Like I said earlier in this article, a tired dog is a good dog.  Spend time playing with your puppy and make sure he gets lots of exercise.  Throw a ball for him, run around with him in the yard.  This will not only provide your puppy with healthy exercise, but will also help create a wonderful bond for the two of you.  And take advantage of the fact that if you have children, they likely have the same high energy levels as your puppy!

Need More Help? Have More Issues?

Doggy Dan's dog training website, The Online Dog Trainer, has more than 250 step-by-step videos covering every dog and puppy training issue you can think of!  Doggy Dan also includes his puppy training program called "Project Moses," where he videotapes his weekly training sessions with his new puppy, Moses, from the time he gets Moses at age 8 weeks, all the way up to one year!  This training is absolutely priceless if you have a new puppy!  I definitely encourage you to check out Doggy Dan's training videos – your entire household will thank you for it!  Please come back and comment below to let me know how you make out!  Debra 🙂
I Donate to Animal Charities
Thank you for visiting my website.  I donate 10% of all commissions I make on this website to animal charities.  You can see a list of the charities I donate to here.  If you like this website, please share it with your friends – every purchase helps animals!
For More About Puppy Training,

CLICK HERE