In this video, we'll discuss dog and puppy crate training, what kind of crate you should buy, step-by-step crate training instructions, a link to get crate training from a professional dog trainer, and safety precautions regarding crate training.
To read the article discussed in the video, click here:
https://peoplelovinganimals.com/should-dogs-be-crate-trained
To sign up for the $1 trial offer with Doggy Dan, click here:
https://peoplelovinganimals.com/TheOnlineDogTrainer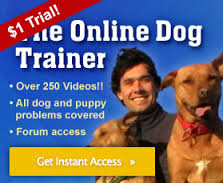 For puppy training from Doggy Dan, click here:
http://shermand22.doggyd4n.hop.clickbank.net/?rd=puppy
To read my complete review of The Online Dog Trainer, click here:
https://peoplelovinganimals.com/the-online-dog-trainer-product-review-free-dog-training-videos
To subscribe to my Dog Lovers email list (you'll receive 5 free dog training videos from Doggy Dan), click here:
https://forms.aweber.com/form/04/1083570904.htm
Dog and Puppy Crate Training
Some people don't agree with crates for dogs and puppies, and I agree it isn't a good idea IF the crate is being used in the wrong way.  Crates, for example, should never be used as punishment, and they should not be used as a babysitter for the dog.  Nor should they be used as a substitute for dog training.  In other words, you shouldn't put your dog in a crate all the time because he'll pee in the house, destroy things, or because you don't want to be bothered with him, etc.  Crate training serves a purpose, and once that purpose is accomplished, the dog should no longer be locked in a crate
Using a Crate to Train a Puppy
The most common use for crate training is housebreaking a new puppy.  A crate can be very effective because dogs instinctively don't like to pee where they sleep.  So if the puppy is in a crate, it'll help to make him wait to pee until he's outside.  But again, once the housebreaking is accomplished, the puppy shouldn't have to be locked inside the crate anymore.  Same goes for when the puppy can be trusted in the house and not get into things, destroy things, etc.
The Crate Should Be Your Dog's "Refuge"
The crate shouldn't be used for punishment, as a babysitter, or as a prison.  It should become a place where your dog likes to be. It should be his "safe" place.  It should be the place where he can relax, nap, play with his toys, chew on his bones.  It should be a place where they can be placed, say, if a plumber comes over, or where the dog can go hide when company is over or if the house is getting too loud.  The crate should always be a safe, enjoyable, comfortable place for your dog to be.
Crate Training Takes Time and Patience
I hope the step-by-step instructions in the video above have helped you to know exactly how to crate train your dog or puppy so that it's an enjoyable experience for both of you.  Please feel free to comment below if you have more crate training tips, or if you have questions.  I'll reply!  Debra 🙂