Fortunately for me, I have never lost a cat.  The closest I ever came was when my tomcat, Miron, ran out the door one morning and wouldn't come back in.  And it wasn't a typical work day – where I could've called the office to say I'd be late to allow time to wrangle him back in.  Instead, I was scheduled to attend a conference for my job a couple of hours away and had no choice but to leave immediately.  I asked my neighbor, Phil, to please try to get Miron back into the house.  When I returned from the conference, Phil told me Miron was lost – that he'd searched all day, drove the neighborhood several times, but couldn't find him.  I spent the evening searching both on foot and by car.  I was devastated when I couldn't find him – it was cold and snowing outside.
At 11 pm,I was on the couch watching TV – with a box of tissues half used up with crying, when I heard a very faint scratch on the front door.  I opened it – it was Miron!  Miron was a black and white cat, but I'm telling you, he was BLUE!  He actually seemed to have a blue tint to him.  He was so cold! He ran to his food dish and ate like he hadn't eaten in days, and I spent the next couple of hours repeatedly warming small blankets in the dryer to cuddle him in to warm him up.  Miron ended up living to be 14 years old.  He never tried to run away again!
I was very lucky that he came back.  But I know other cat owners aren't so lucky and thousands of cats are lost every year – many not found, and I honestly cannot even imagine how painful that must be for their owners.  My pets are like my children.  If one went missing for a long period of time, I don't know how I'd handle it.
All I can do is attempt to help people who are in this position.  Here are some tips on how to find a lost cat by Cat Health & Training Expert, Mary Mathews.  I hope this helps someone.  And if you've lost a kitty, please know that there are thousands of people like me who have sincere sympathy and hope and pray your cat is found.
Tips for Finding a Lost Cat
Walk around the area where the cat was lost and call the cat's name.  Walk slowly and listen – your cat may be too scared to come out of hiding, but may whimper, meow or cry.  If your cat just ran out the door of your home, leave the door open.  He may just come back.
Make sounds that may attract your cat.  Shake a box of her treats or dry cat food – or open a can if the cat could be hiding within earshot.
Search the neighborhood at night – preferably, late.  Include your old neighborhood if you've recently moved to a nearby place.  Search hiding places like garbage cans or under porches.  Ask your neighbors to be on the lookout for your cat.
Put fliers all around your neighborhood or in the area where your cat was lost.  Include a clear and large picture, a description of the cat and the cat's name.  Also mention where the cat was lost, and give your name and phone number.  Put the fliers in a plastic cover before stapling them to posts, trees, buildings, etc. so they won't get wet if it rains or snows.  Be sure to disclose any identifying marks your cat may have, whether he has a collar, etc.
Use your local newspaper(s).  Check daily for any "Found Cat" ads, and place a "Lost Cat ad" yourself.
Check with your local animal shelter (like an SPCA). Usually animal shelters will let you fill out a Lost Cat form so they are aware in case anyone brings your cat there.  Give them one of your fliers that includes a picture.  Visit the shelter regularly and ask to look at the cats available for adoption.  These shelters are often understaffed – if your cat is brought in, the fact that he matches the description in your lost cat report may be overlooked.  So go to the shelter and look at least once a week.
Try placing some of her favorite things in your yard or on your porch. Place familiar smelling items such as t-shirts you've worn and not washed, the cat's bed or toys, and some of its food plus water, somewhere near your house if your cat ran out your front door.  If your cat got lost elsewhere, try placing similar items in a nearby location, then check that location often (preferably at night or early morning).
Check Facebook and Craigslist.  In some areas there are Facebook pages for lost animals, such as WNY Lost & Found Pets in Western NY State, where people can place an ad about their lost cat, or place an ad if they've found a cat.  People also place ads on Craigslist for both lost and found cats. Place an ad for your lost cat on Craigslist, then sign up for emails letting you know about 1) any new "Lost Cat" ads placed and 2) any new "Found Cat" ads placed. Either might lead you to someone who may have found or seen your cat.
Sprinkle flour to obtain foot prints.  Frightened cats will not come when called.  Try sprinkling flour around areas where the cat might be. Then look for paw prints and follow them
These days it is common to put a tag or microchip on your cat to increase the chances of recovery if they get lost. A microchip is an identification device inserted beneath your cat's skin. All humane societies and agencies have scanners to read the chip. I highly recommend their use.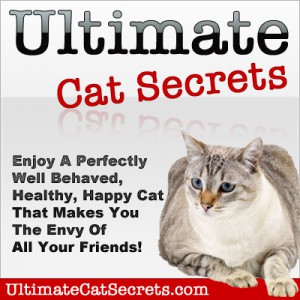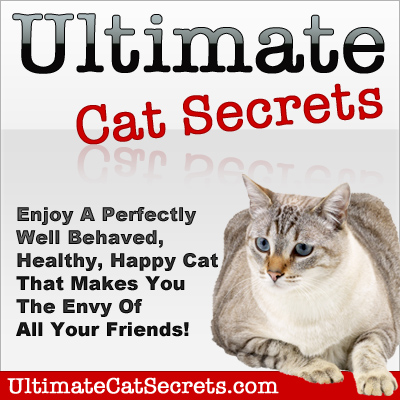 – Mary Mathews is an expert on cat health, training and bonding. She is the author of the best selling course, Ultimate Cat Secrets. For more information about caring for cats, check out her website HERE.
Try to Stay Positive.
I know it's difficult and painful when you've lost a pet, but try to stay positive that you'll eventually find your cat.  Sometimes cats run away and stay away for weeks at a time, then come home.  I have  friends whose cat ran away and went to live with a neighbor down the street.  They searched for months only to realize the cat had simply decided he'd rather live with the neighbor!  Other times cats are lost and they don't have a collar.  So whoever finds them takes them in.  I know it's painful not to have your cat home with you, but realize your cat could very well be in very loving hands, being well cared for, fed, and loved.  And some cats refuse to be indoor cats.  If they run away, they may stay away – exercising their right to be an outdoor kitty – a ferocious hunter, stalking mice in the wee hours.  Remember we all have a journey – and that's true for our pets as well.  Know that no matter what happens, you will see your precious pet again – even if it's not until you're both safely back in Heaven.  Try to stay strong.
More Articles about Cats:
10 Things That Stress Out Your Cat
How to Train Your Cat – Solve Behavior Problems Fast!
Leaving Cats Home Alone – What to do instead
Indoor Cat Health – What do they need?
Foods That are Poisonous for Dogs and Cats