Losing a pet is like losing a family member. I've had people over the years communicate to me that they felt weird, or guilty, or embarrassed, because they "cried more over the dog dying" than for a person who died. In my opinion, love is love. Our pets are just as much a part of our daily lives as any friend or family member.
Grieving over the loss of your pet is the same as grieving over the loss of any loved one. And sometimes, pets are all we have. I personally lived alone for 13 years and my pets – specifically my cat, who lived to be 20, was my only friend/companion at times.

Coping with the Loss of Your Pet
Don't let anyone tell you how you should feel or react to the loss of your pet. No one should be trying to tell you to "move on" or "get over it." Everyone grieves in their own way, and in their own time. Let yourself feel however you feel without being embarrassed. It's OK to be angry, to cry or not to cry. It's also OK to laugh, to find moments of joy, and it's OK to let go when you're ready.
Reach out to others who have lost pets. Check out online message boards, pet loss hotlines, and pet loss support groups.  Another source for help is the website, PetLoss.com. If your own friends and family members do not understand the grief of pet loss, find someone who does. A person who has also lost a beloved pet may better understand what you're going through.
Seek professional help if you need it. If your grief is persistent and interferes with your ability to function, you should speak to your doctor about getting help with depression.
Rituals can help with healing. A funeral can help you and your family members openly express your feelings. Ignore people who think it's silly to hold a funeral for a pet, and do what feels right for you and your family.

Create a legacy. Preparing a memorial, planting a tree in memory of your pet, creating a photo album or scrapbook, or just sharing the memories you enjoyed with your pet, can create a legacy to celebrate their life. You can find wonderful ideas for pet memorials HERE.  You can purchase a personalized dog necklace HERE.
Look after yourself. The stress of losing a pet can really take a toll on your health. During this difficult time, be sure to eat a healthy diet, get enough sleep, exercise regularly to help release endorphins and raise serotonin, and drink plenty of water if you're crying a lot so you don't get dehydrated. I know you're in pain, and it's hard to worry about yourself while you're so sad. But your becoming ill isn't going to help – rather, it will only make things feel worse.
If you have other pets, try to maintain your normal routine. Surviving pets can also experience loss when a pet dies, or they may become upset by your sorrow. Maintaining their daily routines and increasing exercise and play times will not only benefit the surviving pets, but will likely help you too.
If you're grieving the loss of a pet during the holiday season.  You might like to read this article, How to Deal with the Loss of a Pet During the Holidays.  
If all else fails, just pray and stay busy.  I have found that for me, the best (only) way for me to get through grief is to pray often (several times a day) and keep busy.  Just doing things to pass the time helps because as time passes, you begin to feel better.  Fold laundry, go for a walk, go to the store.  Clean out your cupboards, or your desk if you're at work.  Staying busy really does help. I personally have found going for walks to be the most helpful.
This Poem Has Helped Me More Than Anything Else
In all the years I've been a pet owner, nothing has ever brought me more comfort after the loss of a pet than The Rainbow Bridge Poem. I actually print it and include it with a sympathy card whenever a friend or family member loses a pet. I hope it helps you too.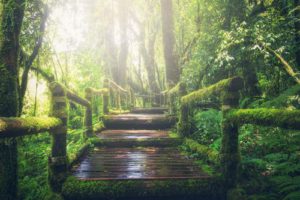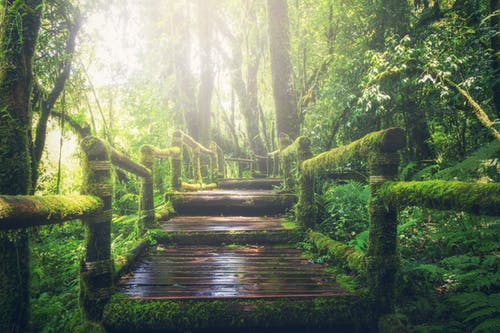 The Rainbow Bridge
By the edge of a woods, at the foot of a hill
Is a lush, green meadow, where time stands still.
Where the friends of man and woman do run
When their time on earth is over and done.
For here, between this world and the next
Is a place where each beloved creature finds rest.
In this golden land, they wait and they play
'til the Rainbow Bridge they cross over one day.
No more do they suffer in pain or in sadness,
For here they are whole, their lives filled with gladness.
Their limbs are restored, their health is renewed
Their bodies have healed, with strength renewed.
They romp through the grass without even a care
Until one day they start and sniff at the air.
All ears pricked forward, eyes dart front and back
Then all of a sudden, one breaks from the pack.
For just at that instant, their eyes have met
Together again, both person and pet.
They run to each other, these friends from long past
The time of their parting is over, at last!
The sadness they felt while they were apart
Has turned into joy once more in each heart.
They embrace with a love that will last forever
And then, side-by-side, they cross over together.
                      – Steve & Diane Pidavski
Books Can Help with Pet Loss
When my mother passed away in 2005, I found an enormous amount of comfort reading Sylvia Browne's books about, "The Other Side."  So I was thrilled to find out that she has a book about grieving the loss of our pets called, "All Pets Go to Heaven."
Book Description:  "The death of a pet is a heart-wrenching event for anyone.  Now Sylvia Browne uses her psychic gift to show us how pets fit into the afterlife and provide relief for those who are grieving the loss of a beloved animal.
Forty years of research and stories culled from Browne's career reveal keen insights into the creatures that share our homes and hearts.  From their never-ending loyalty and heroic deeds, to their comic behavior, our pets have a special purpose here on Earth and beyond, and now readers can understand exactly what that is."
Excerpts:  Here are a few excerpts from the book that I found myself writing down because they helped me a great deal:
"As we believe more in the truth of the Other Side, the veil between this side and the Other Side thins because belief brings out the truth and blocks negativity."
"Don't be worried and stressed.  Enjoy all the beauty around you – the trees, animals, family members, friends.  We're on this earth for such a short time (even if we live to be 100), and before we know it we'll be back Home on the Other Side in a beautiful meadow romping with our pets and loved ones.  We can't live like this world is all there is to creation, because it isn't, and this existence was never meant to be the true reality of life."
"No matter how much pain and grief we suffer after the loss of a pet, we must go on, knowing that they, just like other loved ones who have passed over, will see us again very soon.  On the Other Side, there is no time as we know it.  While it seems to us that we must wait years to see our loved ones again, to them it will seem like only a moment."
Love your pets.  Sylvia believes there is a contract with God that reads:  "If you will take care of mine, I will take care of you."
I hope this books helps you.  It helped me. To purchase this book, CLICK HERE
Your Pet's Death is NOT Your Fault
If for some reason you feel your pet's may be your fault, I encourage you to read my blog post, Your Pet's Death is Not Your Fault (includes video).  No matter how convinced you may be that it's your fault, please (please!) read the post and/or watch the video.  Please trust me on this.
Please comment below to share tips for coping with the loss of a pet.
And if you're dealing with that loss at this very moment, please accept my heartfelt sympathy and understanding. You will get through this.  My mother always said, "Just say your prayers and keep on walking." HUGS, Debra XO
For My Darling Taz
This post is dedicated to my beloved dachshund, Taz, who passed away on May 3, 2016.  Mommy loves you, sweetheart. XOXO