#1 New York Times bestseller and USA Today bestseller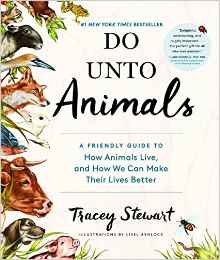 Do Unto Animals – A Friendly Guide to How Animals Live and How We Can Make Their Lives Better by Tracey Stewart.
The more we know about animals, the better we can care for them, and the better their lives, and ours, will be. Former animal advocate and veterinary technician, Tracey Stewart, understands this better than most—and she's on a mission to change how we interact with animals. Through hundreds of stunning illustrations, a few homemade projects, and her knowledgeable, humorous voice, Stewart provides insight into the secret lives of animals and the kindest ways to live alongside them.
At home, she shows readers how to speak "dog-ese" and "cat-ese" and how to "virtually adopt" an animal. In the backyard, we learn about dealing kindly with pesky moles, building bee houses, and creative ways to bird-watch. And on the farm, Stewart teaches us what we can do to help all farm animals lead a better life.
Part memoir of her life with animals, part practical guide, and part testament to the power of giving back, Do Unto Animals is a gift for animal lovers of all kinds. It is beautifully illustrated by Lisel Ashlock.  Animals give us so much.  Isn't it time we give back?

Tracey and her husband, Jon Stewart (from The Daily Show) on CBS this morning

Reviews of Do Unto Animals
"Charming. . . . A memoir and how-to about enriching the world of the creatures in your life, whether they be dogs, cats, or the crows in your backyard. . . . The book details basic animal behavior as well as practical humane solutions to common animal-human conflicts (cats scratching furniture, moles destroying your lawn). It also has craft projects for those of us with great intentions and no skills."
—New York Times
"A guide to understanding animals and treating them with respect. . . . While the book is about loving and caring for animals, it also follows Tracey's path to happiness through animals."
—Gayle King on CBS This Morning
"A one-of-a-kind mix of info, advice, philosophy and hands-on activities."
—Philadelphia Daily News
"Gives readers not only facts and advice, but also smart and caring ways to improve animals' existences."
—Chicago Tribune
About the Author
Tracey Stewart is the editor-in-chief of the website,
Moomah
, which provides parents and kids with fun, easy, and effective ways to contribute to varying kinds of nonprofits. A passionate animal advocate and expert (she's a former veterinary technician), she lives on a farm in New Jersey with her husband, Jon Stewart, two kids,
four dogs

,
two pigs, one hamster, three rabbits, two guinea pigs, one parrot, and two fish—all rescues (except for the kids).
My Recommendation
Do Unto Animals is a beautiful book that any animal lover will enjoy.  Plan to hear yourself saying, "Awwww…" about 3000 times before you finish the book!  LOL  Also keep in mind that this book makes a great gift idea for animals lovers!  Buy several copies as Christmas and birthday gifts for friends and family.  They'll love it!  Debra
I Donate to Animal Charities
Thank you for visiting my website.  I donate 10% of all commissions I earn on this website to animal charities.  You can see a list of the charities I donate to here.  If you like this website, please share it with your friends – every purchase helps animals!  Debra
 For more articles about pet care, CLICK HERE