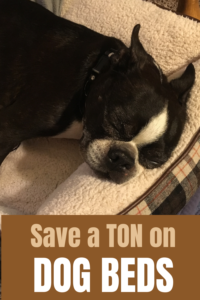 I've been shopping online for years.  I hardly shop in regular retail stores anymore, because I almost always (no, scratch that…ALWAYS) find what I'm looking for way cheaper online.  As a big-time pet lover, I've spent thousands of dollars of my hard-earned money over the years on my beloved pets.  So I have tons of experience finding the best deals!
Below is a list of my favorite places to get the absolute BEST PRICES on discount dog pet beds.  Comment below if you have any questions!
Best Places to Buy Discount Dog Pet Beds

Pets Warehouse
My favorite is PetsWarehouse.com.  You can read my review about them HERE.  I love this place because of the sheer VOLUME of pet items they have available.  You can save up to 50% off what the big retail stores charge at Pets Warehouse. They have particularly nice stuff too.
To visit their website, CLICK HERE

Amazon
I've shopped on Amazon for years.  They have a really big selection, and their prices are always way cheaper than the retail stores.  Amazon runs a lot of deals, especially if you have an Amazon credit card or if you're an Amazon Prime member.  Shipping is free if you buy right, and I'm always shocked at how FAST I receive the items.
They have products that are just as nice and of the highest quality like the big retail pet stores, just at way lower prices.  Like this dog bed – these orthopedic beds are way more expensive in retail stores.
To see more discount dog beds on Amazon,

CLICK HERE
Luxury Dog Beds
It seems Amazon is the way to go if you're looking to buy a more expensive, luxury dog bed.  Look at this comparison: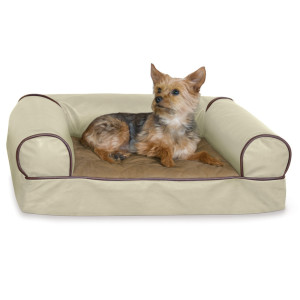 K&H Memory Foam Cozy Sofa Pet Bed
41″ x 30″
At PetSmart for $199.99
COMPARED TO: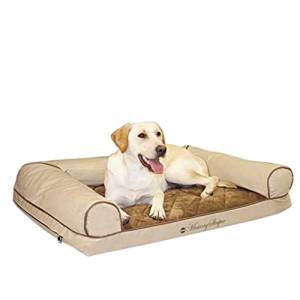 K&H Memory Foam Cozy Sofa Pet Bed
41″ x 30″
at Amazon for $114.47  (CLICK HERE TO PURCHASE)

That's a savings of almost $86!!
Ebay
I've been buying (and selling) on Ebay for more than 15 years. You can read my review about the benefits of buying on Ebay HERE.  I've purchased dozens of items over the years on Ebay, for my pets and for myself.  You can get things slightly used, or new in the box, for a fraction of the retail price.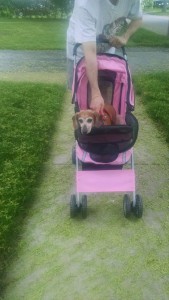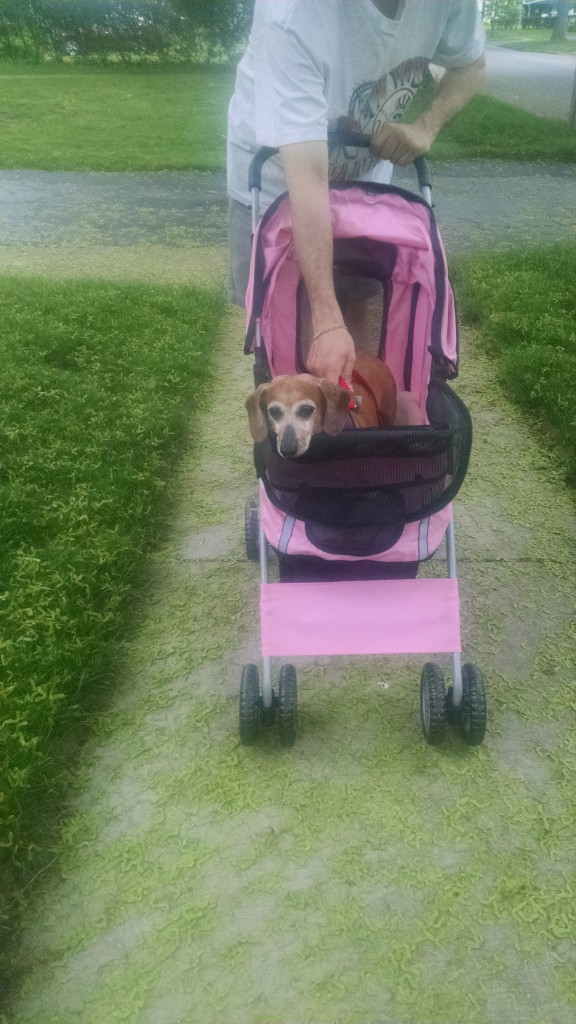 I purchased this pink dog stroller for my dachshund, Taz on Ebay "new in box" for $44.  It was on sale at Walmart for $85!  That's nearly HALF OFF. (Isn't she so cute in her buggy?  Awwwww…)
To see a nice selection of discount dog beds on Ebay, CLICK HERE.
I Hope This Has Helped
I love shopping for my pets, but I also love saving money.  I hope I've saved you some time and money by showing you ways to get the very same pet supplies you see at PetSmart, etc. at way cheaper prices!  Debra
I Donate to Animal Charities
Thank you for visiting my website.  I donate 10% of all commissions I make on this website to animal charities.  You can see a list of the charities I donate to here.  If you like this website, please share it with your friends – every purchase helps animals! Debra
  For More About Pet Supplies, CLICK HERE