The Cheapest
I was able to get a cheap pet insurance policy for our 11 year old Boston Terrier, Cagney, through Embrace Pet Insurance for $24.73 per month.  It includes up to $8,000 per year in coverage, has a $750 per year deductible, and provides 70% reimbursement.  I'll show you the two other companies I compared this with and tell you the differences – but this one is definitely the cheapest, and it would've been even less per month if he was younger.
Cagney and Tazzie

My husband and I recently adopted Cagney, who came to us after sustaining an ACL injury (knee blow out!).   That's him in the picture – isn't he cute with his little stuffed monkey?  I love him to pieces  🙂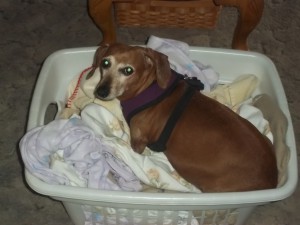 Just three months prior, we lost our 14 year old mini doxy, Taz.  I adopted Taz from a shelter six and a half years earlier, and in that time frame I spent more than $20,000 on medical bills for her.  You read that right – $20,000!  She had one major health issue after another, and although I don't regret going into huge debt to give her the medical care she needed (I loved her immensely), I certainly wish I had purchased a pet insurance policy for her before any of those things happened! (That's her in the laundry basket – the clothes were warm from the dryer so she jumped in – who could resist?)
Embrace
You can read my review of Embrace Pet Insurance here.  When it comes to comparing pet health insurance companies, the difference is in the details.  This company scores high on a feature-by-feature comparison, and they gave me the best price.
The Second Cheapest
HealthyPaws
You can read my review of HealthyPaws Pet Insurance Foundation here.  They have been rated the Best Pet Health Insurance Company by their customers for 2012, 2013, 2014, 2015 and 2016 at Petinsurancereview.com, Consumersadvocate.org,  PetInsuranceQuotes.com, and other leading review sites.  They earned this praise because they offer exceptional customer service!
My quote for Cagney:  $38.64 per month, with no cap on annual coverage, a $750 per year deductible and 60% reimbursement.
The Third Cheapest
PetPlan
You can read my review of PetPlan Pet Health Insurance here.   This is the largest provider of pet health insurance in the world.
My quote for Cagney:  $64.44 per month, with a $1,000 deductible and 70% reimbursement.
Don't Risk Your Pet's Health  – Or Your Pocketbook!
Pet Health Insurance really can be quite affordable.  And when you consider what happened to me with little Taz, I think you'd agree it's too risky not to have it.
For More Information, Read My Articles:
Is Pet Insurance Worth it for Cats?
Is Pet Insurance Worth it for Dogs?
We Donate to Animal Charities
Thank you for visiting my website.  I donate 10% of all commissions I earn on this website to animal charities.  You can see a list of the charities I donate to here.  If you like this website, please share it with your friends – every purchase helps animals!  Debra 🙂
  For Articles About Pet Health,

CLICK HERE