The Online Dog Trainer, the online dog training website that's been my #1 recommendation for dog training for more than 7 years, is having a huge Black Friday Sale!   Check it out here  and use the code HALFOFF at checkout.  I hope you'll take advantage of this if you need help with dog or puppy training!
Doggy Dan has combined all of his dog and puppy training programs into one package called The Complete Pack.  For Black Friday, he's offering this package at 50% off!
This Complete Pack contains all of his courses ranging from training for biting and separation anxiety, to leash pulling and aggression, and everything in between!
All of the courses inside the Complete Pack (PLUS some incredible bonus', hint-hint) add up to a $1,688 value.
THIS WEEK ONLY, get it for $98.50 (instead of $197)!
That is over $1,580 in savings!!
SO, gift it to your dog or puppy…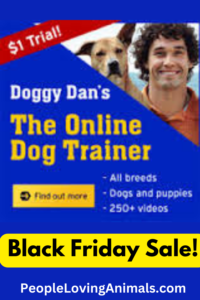 OR gift it to your family & friends…
OR BOTH!
Whoever you choose to gift it to, don't wait!
This offer only lasts until Sunday, November 27th! Then it's gone for GOOD!
Get The Complete Pack for 50% OFF HERE
*Don't forget to apply code HALFOFF at checkout!
Who is Doggy Dan?
Doggy Dan is a Professional Dog Trainer and Behavioral Specialist, and the creator of the dog training website, TheOnlineDogTrainer.com.  The site has more than 300 videos where you get to see Doggy Dan working with dogs and their owners.
Doggy Dan is famous for "Doggy Dan's 5 Golden Rules," which are the foundation of his dog training philosophy.  These are 5 simple exercises you can incorporate into your dog's daily routine which result in a calm, obedient, perfectly-behaved dog.   This has been my #1 recommendation for dog training for more than seven years because it's effective and affordable.  You can read my full review here.

I Donate to Animal Charities
Thank you for visiting my website.  I donate 10% of my earnings on this website to animal charities.  You can see a list of the charities I donate to here.  If you like this website, please share it with your friends – every article and every purchase helps animals!  Debra
For More About Dog Training, Click Here