The SPCA (Society for the Prevention of Cruelty to Animals), is a common name for the non-profit animal welfare organizations that exist around the world.  The first SPCA was RSPCA, which was started in England in 1824.  SPCA organizations assist in the prevention of cruelty to animals, campaign for animal welfare, and shelter, rehabilitate and find homes for mistreated and unwanted animals.

SPCA's operate independently of each other.  It's not like the APSCA, which is one big organization that operates all over the world.  All SPCA's around the world are independent of one another and are not affiliated in any way. Each SPCA has its own governing policies, board of directors, financial reports and organizational goals and procedures.
Ways to Help Animal Shelters
These are ways you can help any animal shelter.  We'll go over these in more detail in this post, but here's a quick list:
Donate Money
Volunteer
Purchase and Donate Things They Need
Hold a Supplies Drive
Organize a Fund Raiser
Create Adoption Flyers
Sponsor a Cage
How You Can Help Your Local SPCA
Donate Money
You can visit your local SPCA's website to see how they accept donations.  You can mail a check, or you may be able to make a donation online. Strongly consider making a monthly donation.
Volunteer
When people think about volunteering to help their local SPCA, they think of things like cleaning up after animals, washing blankets, crates and cages, walking the dogs, helping bathe animals, etc.  All of those things are needed, of course, but did you know you can volunteer a variety of other skills and talents you may possess?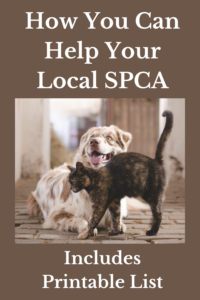 Odds are that whatever your skills or job experience may be, they can be useful to meet the needs of your local shelter.  If, for example, you're an experienced painter, electrician or plumber, you could offer those services.  If you're a retired veterinarian, veterinary aid, secretary, administrator…your skills could very well be just what your local SPCA needs!  
You can also volunteer to do the driving to deliver donations to the shelter, or drive animals to their vet appointments.  Do you have a big following on social media?  You could volunteer to share postings about new pets who need a home.  You could also post a link to this article to show others how they can help! 🙂
Contact your local shelter – perhaps call or send them a letter with your resume or list of skills – and ask if you can help.
Purchase and Donate Things They Need
One of the more pressing needs for SPCA's is often supplies.  For the last few weeks, my local newspaper has been publishing something called, "SPCA Wishlist."  It's a list of items my local SPCA has indicated they could use and are asking people to donate.  This is what gave me the idea for this post!  I thought of my local SPCA needs these items, then all SPCA's could use them too!  Here's the list they published:

Things You Can Donate to Your Local SPCA
General Cleaning Supplies:
45 Gallon Tall Kitchen Garbage Bags, Large Can Liners, Multi-Surface Disinfecting Wipes, Air Fresheners (Fabreeze, Oust), Plastic Broom and Dust Pan, Antibacterial Soap Refills, Fabuloso/409 Multi Surface Cleaners, Window Cleaner, Reusable Spray Bottles, Dishwashing Gloves and General Rubber Heavy Gloves, Multi-Surface Floor Cleaners, Dawn Dishwashing Soap, Bleach, Hand Sanitizer, Laundry Detergent
Lawn and Grounds Maintenance
Pet-Friendly Ice Melt, Snow Shovel, Gardening Gloves, A.V. Cart with Wheels, Rake, Pruning Shears, Hopper Hose Nozzles, Poly Clothes Line/Sash Cord, Duct Tape, WD-40
Animal Care Supplies and Equipment
Plastic Pet Carriers, 8 Quart Stainless Steel Water Buckets, Men's Beard Trimmer (awww…for hair cuts…how cute!), Professional Grooming Table (Model TP215 Available at pet-edge.com), Ultra Edge Two-Speed Clippers, Clipper Blades (#40 #10 #7), Clipper Cool Down and Lubrication Spray, Slicker Brushes (Various Sizes), Universal ISO Compliant Micro-chip Scanner (Available at AvidID or Petink), 9 Volt Batteries, Wet and Dry Shop Vacuum, Zip Lock Bags, Poop Bags, Large Squeeges, Cat Lax Hairball Formula, High Cal Calorie Supplement Paste, Towels, Washcloths, Toys, Office Supplies, Cat Litter, Dog, Cat, Puppy and Kitten Food, Bandages, Rugs, KMR Kitten Milk Replacer (Canned or Powder), Esbilac Puppy Formula (Canned or Powder), Puppy Pee Pads
Some of the stuff on this list could be used items you don't use anymore (like towels, washcloths, rugs, blankets). It's best to contact your local SPCA and ask what their specific needs are.  
I'll Donate a Portion of Your Purchases
If you purchase these items on Amazon using THIS LINK, I'll receive a small commission from Amazon.  I donate 10% of my earnings (not only from this list, but from my entire website) to animal charities.  To see a list of animal charities I donate to, click HERE.  Please share this list with your friends who love animals! 
Hold a Supply Drive
You can collect supplies for your local shelter by hosting a supply drive. First call your local shelter to find out what the need most.  Some of the most common supplies include litter, food, toys, bandages, office supplies and rugs.  You can organize a supply drive at a community event like a festival or farmer's market.  Click HERE for much more information about fundraising.
Organize a Fund Raiser 
Here are a few great fundraising ideas:
Host a pet talent show and charge an admission fee.
Have a pet party at a local park and encourage people to bring an item to donate to the SPCA (set up a donation table).
Offer pet sitting, dog walking or grooming services, then donate the money to the SPCA.
Have a raffle.  Include pet treats and toys as prizes. A PetSmart gift card might be a good item to raffle off (maybe at work?) Or perhaps a subscription to BarkBox or

KitNipBox

?
If you have the time and enthusiasm, organize a 5K run/walk to raise money!
Create Adoption Flyers
You can help your local SPCA by volunteering to create pet adoption flyers.  Click HERE for a step-by-step article on how to make great flyers to help animals get adopted! 
Sponsor a Cage My local newspaper recently ran an article about a program my local SPCA is running. You can read the article HERE. This is a program where local business can donate money to cover the expenses of one animal at the SPCA, and exchange, they get advertised as a sponsor. Click HERE to get all the details. You could Sponsor a Cage here, or you could suggest this program to your local SPCA.
Please Share With Your Friends Who Love Animals!
The main goal of a shelter is to help care for animals and help them find their future homes. When you support your local shelter, you're supporting the health and wellness of our furry friends — and that's the greatest gift of all. Please share this article with your friends who love animals. You can share by forwarding the link to this article, or by sharing the video version of this article (see below). Thanks so much for visiting!  Debra 🙂