In this review of Secrets to Dog Training, we'll cover what it is, what it covers, and what the best parts are.  I'll also be giving you a link for their free mini dog training course.  It's a great way to try before you buy!  You can watch my video review below if you'd prefer to listen instead of reading.
What is Secrets to Dog Training?
Secrets to Dog Training
Price:  $39.95
60-Day Money-Back Guarantee
Secrets to Dog Training is a dog training program written by Dan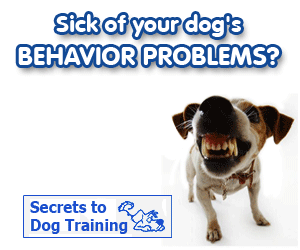 Stevens, the owner and founder of Kingdom of Pets.  This program takes an unusually detailed and complete look at how to deal with common problem dog behaviors, and also at how to prevent them.
As the owner of many (many!) dogs and puppies over the years, I've had a few troublesome pooches myself.  I'm sure I'm not the only one who's spent a great deal of time on the internet looking for reliable advice and help.  Secrets of Dog training certainly delivered, in the form of an online book that contains a level of knowledge regarding dog behavior that's far from common.
The information contained in this e-book is actually reliable.  It's written by an experienced dog trainer, so you can be assured that all the advice and tips included in the book are tried, true, and effective.  They all come from the author's real-life experiences as a dog trainer.
There's also an easy-to-follow video (30 minutes – downloadable) which provides examples of real dog behavior issues and the solutions and remedies you need to solve them.
Click Here for Discounted Offer and FREE Six-Day Course
Secrets to Dog Training by Daniel Stevens
This dog training guide contains a pretty impressive range of information. It doesn't just cover the problem behaviors.  The book starts off with advice for new dog owners (how to choose a dog, where to get a dog, information about the different breeds, how to puppy or dog proof your home, information about the first vet visit, housetraining, etc).  Then it starts with the more advanced issues – behavioral problems such as aggression, dominance, digging, chewing, excessive barking.
They even discuss how to deal with separation anxiety.  The guide includes beginner, intermediate and advanced commands and tricks, and also includes information regarding health-related issues (such as allergies, heatstroke, fleas). It even addresses problems like dog/cat coexistence.
Whew!  That's a lot!
The 30-minute downloadable video discusses a dog's primitive desire to be the alpha dog and how you can prevent this.  The steps it reveals on how to stop bad dog behaviors such as housebreaking or leash pulling, for example, are so simple that you can start trying them out with your dog right away.
Become a Dog Whisperer!
As if what I've listed above isn't more than enough to get you to understand how valuable this book is, it does get even better.  The book also contains a very impressive section about dog whispering.  If you haven't heard of that already, it's a method of dog training based on a philosophy of mutual respect and clear communication (imagine if we used this in all of our relationships, not just with our dogs…hmm…)
The technique has been made popular in recent years by Cesar Millan ("The Dog Whisperer"), and it's becoming increasingly well known as the humane method for disciplining and training your dog.  Secrets to Dog Training has an entire section dedicated to dog whispering.  It explains the background of the technique, how to use your voice and body language, how to interact with your dog calmly, assertively and effectively.  Step-by-step instructions are included for the most common commands (sit, come, stay, quiet, down, etc).
Needless to say, this book makes for some pretty interesting reading.  And I can tell you, after trying out just the basics with their dogs, people are amazed at how effective the suggested techniques are.  Highly recommended!
Love Free Stuff?  Who Doesn't?
I'm happy to report that Secrets of Dog Training doesn't disappoint.  Not only do you get the Ebook we've been discussing here, but you also get a complete video series, plus a second e-book, all containing an enormous amount of knowledge, tips, and valuable, reliable advice.
Here's What You'll Get:
Secrets to Dog Training Audio Book:
(VALUE $67)
It's not always convenient to read, so that's why you'll receive this audiobook absolutely free. Listen on the go, anytime and anyplace!
Secrets to Dog Training Video Program
(VALUE $97)
There is no substitute for seeing how these amazing commands and methods work in action. You'll see exactly how you need to act and you'll see how experts handle problem behavior issues and nip them in the bud.
Secrets to Becoming the Alpha Dog eBook
(VALUE $19.95)
If you want your dog to listen, you need to become The Leader of the Pack. This eBook shows you how to become the "alpha dog" in your household and ensure that your dog looks up to you and obeys you at all times while giving you a stunning insight into your dog's psychology!
As I mentiioned, the program includes the 30-minute downloadable video with includes easy, step-by-step instructions to solve common dog obedience issues.
And One Last Freebie…
Get this.  As part of this program, you'll also receive a personalized consultation with a member of the Kingdom of Pets team.   If you have an issue with your dog that you'd like some individual attention on, you can send them a quick email and receive a personalized, thorough reply packed with expert advice and practical tips.
My Recommendation
Several of the training techniques present a refreshingly common-sense, down-to-earth approach to dog training; others require a little more effort (take dog whispering as an example) but yield some pretty dramatic results. I liked the way that more than one training technique is detailed, to allow the reader to pick and choose the techniques that best suit themselves and their individual dogs.
I have no qualms in recommending this package to anyone who owns, or is thinking about owning, a dog. You don't need to have a "problem pet" for the manual to be of assistance: there's information included that'll be useful to any and all dog owners.  In a nutshell: highly recommended.  Debra

For More About Dog Training, CLICK HERE