Testimonials About Doggy Dan

Marini Nettle "Our dogs are responding really well to the 5 Golden Rules. Doggy Dan has given us the tools to deal with any situation that may arise, and the online forum help is great when we have a specific question. The videos are fantastic and so easy to understand that even my kids (aged 10 and 14) have no problem understanding and applying the rules. I would happily recommended Doggy Dan to anyone and have already been recommending him to friends. Cheers Dan!"
Vishal Kashyap "I love it! The videos are explained in a concise manner and tell almost everything about dominating dog behavior. If you are looking to control or correct your dog and puppy behavior, look no further than Doggy Dan!"
Ransom Patterson "I just rescued a heeler/husky last week and already seeing a huge difference. She was a good dog to begin with but now she comes when called, doesn't pull on the leash, sits and lays down when I want. She is just in general happier all around and so am I really the 5 golden rules made a good dog awesome."
Maureen Dillon O'Connell "The 5 Golden Rules are awesome and easy to apply. My 1-year-old Cockapoo was a very picky eater (my bad) and starting to be a real barker ….things are soooo much better now. When I put down his bowl …he eats….it took a few days for him to change his attitude but it's working. I have definitely changed my way of doing things and he has responded in a positive manner. We are a work in progress but on the right track. Thank you, Dan!!"
Alison Leigh "Have been working on the Golden Rules for three months now and the initial, remarkable difference in my dog's behavior has been sustained. Issues are now only over enthusiastic visitors, so now I need to continue training them! Jess is not super friendly, but she no longer rushes at people on their arrival and given her space and ignored, she is nearly perfect, wow! Thanks Dan."
Lynn Heisler "Doggy Dan truly understands dogs – a behaviorist with class, knowledge, kindness and caring. He has unending patience and never gives up. Doggy Dan is really and truly one of a kind!"
Debbie Thompson "Really simple rules that work quickly and easily. We have only just started but can see the improvement already. Thanks!"


Sara Byrnes "I totally love Doggy Dan and his training methods! I even bought a couple of months for my daughter and her family. They have a one-year-old border collie/lab mix and he tries very hard to be the pack leader in every situation. I have an 11-week-old female border/lab mix. I think I have watched every video and also everything on the forum. We are trying our best to implement the 5 Golden Rules in our whole family system and have already seen a lot of benefit in the one-year-old and the puppy.
I feel my puppy is getting off to a great start, even though she can be a little rascal at times. I really appreciate the videos because Dan's calm demeanor helps me to remain calm when dealing with situations. Thanks for all your insight and contribution to the relationships between doggies and their people!"
Kim Maurer "I recently adopted a three-month-old chihuahua and have found Dan's videos and methods to be very helpful. It's been many years since I trained a puppy and I've never had one this small. Establishing myself as the pack leader right from the start and using Dan's Five Golden Rules has set the stage for a great relationship with our new family member. I look forward to using more of Dan's methods as we start more training."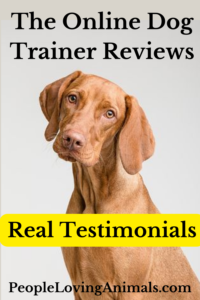 Toni Bennett "My English Staffy Bull Terrier of 15 years who was brought up with my youngest daughter sadly died approximately three weeks ago. I lasted two days before wanting to add a new addition to the family as I've had dogs since I was 16 years and found the hole left with Meg's passing was unbearable. I decided that as I had previously had a German Shephard, I would like another one although black this time.
I love the intelligence and general personality of the breed. So the next thing I needed to think about was training. It had been 15 years since I had a puppy, and I needed a refresher of the basics.
I put google to good use and after two days of extensively searching noticed that "Doggy Dan" popped up time and again. I was hooked before I commenced the three-day trial, just from surfing the site. The training concept totally makes sense, is simple to follow and is very different from the training I had learned in the past.
All my previous dogs have been well trained and long lived but this training is so much easier and logical. I spent the last week intensively sucking up all the information I could from the Doggy Dan website in preparation of the new puppy's arrival.
The laptop was hooked up to the TV and my husband and daughter watched the 5 rules, so we were all on the same page. The payoff has been instant. Jett arrived from Christchurch airport yesterday. He's 8 weeks old, about the size of a cat and bright as a button. In the 24+ hours from leaving the breeder he's had a drive of 1 1/2 hours to Christchurch airport, 1 1/2 hours flight to Auckland, 40-minute drive home via the vets where he was microchipped, vaccinated and checked over.
He took it all in his stride, tail wagging the whole time. We had a rough night last night as we didn't get him home until about 5:30pm we had little time to get him used to his new crate for sleeping. He's a bright little pup, already understands the concept of "go toilet." We have found by applying the rules, specifically the ignoring him one that he is already relaxed and chilled out. Today he has had a couple of sleeps in his crate and goes in and out freely, by the midday he was no longer following us around but staying in the lounge chilling out.
He is already coming when called when we take him outside to the toilet (the changing direction, stopping, turning your back really works!!!!!) He's met the neighbor's cat and the dog next door (over the fence) and was chilled out and relaxed. Thanks, Doggy Dan, so glad I found your site. What a great start!!!"
Alysa Wakefield "We've only just started, and I feel a sense of change already, it's not a quick process with my shih tzu x but I feel like we're a lot calmer, happier and enjoying being obedient already!"
Karen Cooper "Hey Dan, I started with your free videos a couple of weeks ago and have now signed up and am really enjoying going through the info on your website. I have implemented the 5 golden rules and am already noticing a difference. My dog used to always be jumping up all over the ranch slider when I got up in the morning or when I got home at night. She now knows she has to sit quietly outside before I let her in.
My friends know to ignore her and not to talk to her when they come over or we meet up with them elsewhere and she is slowly learning not to jump up on them. The gesture eating is also going really well. I have really noticed a change!
We'll keep all of this going and I'm sure the digging and chewing outside will also eventually go away as well. It's amazing how differently I now view her behavior. What I previously interpreted as happiness to see me and excitement, I now know is her trying to assert herself as pack leader. Thanks for your help so far!"
Christina Glantschnig "I just adopted an adult dog from a shelter and Dan has helped me a lot with welcoming her in my home! His website is amazing – all the videos really help make the message stick. He's extremely helpful and you can even post questions in his forum which he'll answer to personally. I can recommend his training program without reservations!!!"
John Torres "My family and I recently adopted a puppy and have not had very much success with puppies in the past. I found Doggy Dan's website by doing a Google search, and wondered, does this really work? I looked at some of the videos during my trial and it seemed to me that just learning the pack leader situation and the following of the simple rules wouldn't really work. But I figured I would give it a shot and at least see. So, I purchased a membership and started looking at the first section which was the pack leader section.
I tried to explain to my family about the establishment of being a pack leader and how we had to show them that we are the pack leaders, they all laughed and said there is no way and for me not to believe everything on the internet. After a few days establishing that I am the pack leader, I was now the only person in my family that could go into a room with the puppy and not have the puppy cry, put the puppy to sleep without having him cry, and even have him follow My Commands.
I still had one problem and needed help. I called and actually spoke to Dan himself; he was amazing. You know his methods must work when someone from the United States calls another country because your methods work better than anyone else. For all of the skeptics who don't believe he is a real person… he is, and not to mention one of the nicest guys I've ever talked to."
Penny Light "Doggy Dan has made a MASSIVE, amazing impact on the lives of myself and my two dogs. Four-year-old Lab Abbey and two-year-old rescue Great Dane Moose. I have raised Abbey since a puppy using Dan's methods of training (following a home consult and when she showed some emerging behavioral issues as a 5-month-old).
Since then, she has been a happy, calm, balanced obedient amazing dog. Abbey has played a massive role in the rehab of my rescue Dane Moose when I recently brought him home, with her calming influence, together with applying Dan's 5 golden rules. He is now a completely different dog.
He arrived with many behavioral issues and terrified of everything. He had been hit frequently by a previous male owner, had rarely been walked, never on a lead and showed fear aggression to other dogs and men. Amazingly, by simply establishing myself as the Pack leader by applying the 5 golden rules, I have rarely had to target any problem behavior specifically and they are now almost all resolved.
It is only on the walk where I occasionally have to use some of Dan's calming techniques (learned on his online training video) of 'stop-start' lead work if he encounters an aggressive dominant dog, but overall, he is now just like my Lab and able to happily be just a dog, calm, confident, obedient, balanced and happy…no longer in the grip of fear. THANK YOU SOOO MUCH DAN!!!!"
Raewyn Anderson "Doggy Dan has helped considerably with my understanding of how to be a Pack Leader. Despite years owning dogs the "food control" help was perfect and not something I had realized was so important. Such a simple and kind way of behaving to get such good results – thank you so much. My older dog who I thought was fussy about food was not fussy but trying to be Pack Leader. He now eats everything in front of him and leaves nothing.
younger ones are still not the best on leads and around the cats but the stop, change direction method is slowly getting through. I show my dogs and the advice I am reading about is so applicable to every situation we can have with our dogs. Thank you so much."
Emily Assiran "We adopted Louis a couple months ago from the SPCA. He's a very energetic two-year-old pit bull mix and as sweet and lovable as he is, he desperately needed some training so that we can all live happily together. After using the 5 Golden Rules taught by Doggy Dan each day is getting better and better! The difference on walks, to when we leave the house has vastly improved since we started implementing Doggy Dan's teaching techniques.
I especially enjoy the fact that all of his training methods are nonviolent and teach you how to calmly and effectively train your dog.
It is particularly helpful with people like us who have a dog that was rescued from a neglectful and abusive previous owner. I suggest him to other owners at the dog park all the time when they complement us on our dog's demeanor, and I even suggested Doggy Dan to my vet tech after she told me she wished her pit was as well behaved as ours! I was very happy and proud of my pup and all of our hard work when I heard that!"
And Finally…
If you'd like to read MY review of Doggy Dan's video-based dog training website, The Online Dog Trainer, CLICK HERE
I Donate to Animal Charities
Thank you for visiting my website.  I donate 10% of all commissions I make on this website to animal charities.  You can see a list of the charities I donate to here.  If you like this website, please share it with your friends – every purchase helps animals!
For More About Dog Training, CLICK HERE