Before I get into the details of this review of The Online Dog Trainer, I want to say that this online dog training website has been the #1 recommendation for dog and puppy training on PeopleLovingAnimals.com for more than 7 years, and I've yet to find another dog training website I'd recommend more.
What is The Online Dog Trainer?
The Online Dog Trainer is a dog training website created by Professional Dog Trainer and Behavioral Specialist, Daniel Abdelnoor (known as "Doggy Dan").  It is by far the best and fastest growing dog training website available. The website contains more than 300 videos where you get to watch Doggy Dan training dogs and puppies and working with their owners.
Check out this video where Doggy Dan personally takes us on a tour of The Online Dog Trainer. Doggy Dan offers a 3-day trial for $1, and in this video he shows you what you'll be able to see immediately upon signing up!
Prices
$1 for a 3-day trial 
$37 per month
$147 for 6 months
$198 for 12 months

More Than 300 Videos, Covering Every Topic
Let me explain briefly what's inside the site. Currently, there are over 300 videos covering everything from becoming the pack leader, to training a puppy, to training a dog to allow you to take a bone, to getting your dog to stop jumping up, to calming a dog in the car.  Everything you can imagine is covered.
But it's not just the volume of videos – it's also the quality of the training and the easy to follow, step-by-step instructions you get from watching a professional dog trainer actually do the training!  Here's a list of just some of the topics covered in Doggy Dan's training videos:
Dog Aggression
People Aggression
Aggression Towards Animals
Aggression Towards Objects
Barking on a Walk
Barking for Attention
Barking Around the Property
Barking in the Car
Barking When Left Alone
Barking at the Door
Dogs Running Away
Separation Anxiety
Hyperactivity
Jumping Up
Jumping on Furniture
Pulling On the Leash
Not Coming When Called
Fears and Phobias
Obsessions
Toilet Training
Videos of Real Consultations

Something that you will love about this site is that when you're watching the videos, you are actually watching live consultations with Doggy Dan.  There are some videos where he is talking you through some of his dog training theories and techniques but when it comes to troubled dogs, Doggy Dan is actually there working with them and getting results. This is the real deal – an extraordinary dog trainer and dog behaviorist in action with seriously difficult dogs, and you can watch him truly help the dog and its owner.
Proof That the Methods Work

Video is the best way to learn dog training techniques. You actually get to see how a professional dog trainer does it.  Doggy Dan shares his knowledge with amazing skill, and his passion to help really comes across in his videos.  You get to understand not just the concept, but also the actual, practical approach. He explains everything in a way that is easy to understand, in a language that helps you connect with your dog. You begin to actually see things from their eyes – and that's why his approach works. He is working with the dogs, not against them.
Gentle Methods and Techniques
There is no fear or aggression used. Yet the dogs respond very quickly, and sometimes even immediately.  And the great thing is that you can see it all happening – how he uses his voice, his body language and you also get to see the dog's reactions. There are no secrets, nothing hidden, nothing held back, and the methods make so much sense. If you are looking for a simple, but powerful approach to developing an amazing relationship with your dog or puppy, or if you need to learn how to stop unwanted behaviors, then this site gives you the help you need.
The Forum

When you join The Online Dog Trainer, one of the free bonuses is the Forum. The questions asked in the Forum are answered by Doggy Dan himself. This is quite different from many forums where users are simply left to chat amongst themselves to guess the next step.  In this forum, Doggy Dan is there to help, which is a huge bonus if you want specific, professional advice for your situation.
Dog Behavioral Issues
Possibly the most impressive thing about this website is Doggy Dan's ability to help people understand the real cause of their dog's issues. No matter what the problem is, he covers it in his videos, but he also makes sure that you and your dog end up with a stronger relationship. His Five Golden Rules inside the pack leader section are worth their weight in gold alone – it is something every dog owner should be taught the day they get their dog. With Doggy Dan, no dog is too old, or too stubborn.  They can all be helped once they are properly understood, and his site, The Online Dog Trainer, is the site to help you accomplish that.
Audio Files

Another excellent feature on the website is that Doggy Dan has created several files that you can listen to and have playing as you do other things. New audios files are being added regularly and the quality of these is exceptional. Each audio file is approximately 30 minutes long, providing listeners with valuable understanding of not just what to do, but how it all fits together.
Puppy Training
One of the latest and most exciting additions to The Online Dog Trainer website is Project Moses. For anyone who has a new puppy, this is a must. In this part of the site, Doggy Dan has taken an adorable new puppy named Moses and videoed every stage of his training from eight weeks old right through to one year old, and those videos are all available on the site. It's so fun and exciting to watch.  You can see Moses learning all of the commands and growing into quite an amazing dog.
This project in itself is such an incredible concept, that it could be the only training he offers and it would still be priceless.  For people wanting to train a puppy, nothing compares to this.  Nothing.

Endorsed by the SPCA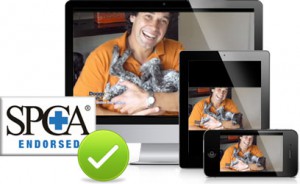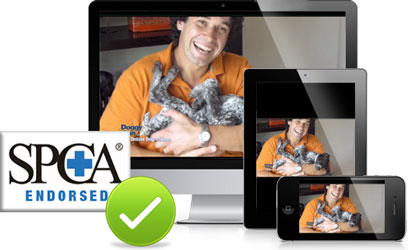 Doggy Dan's dog training website is  endorsed by the SPCA (Society for the Prevention of Cruelty to Animals). They actively promote it at all their rescue shelters because they know if new rescue dog owners follow Doggy Dan's training, they are far less likely to return the dog. In fact, they even have a link to The Online Dog Trainer on their homepage. That in itself speaks volumes.
Something that will become immediately obvious to you when you start watching the videos is Doggy Dan's knowledge, and his passion to help make a difference in the lives of dogs and their owners. He comes across as a genuine guy, as well as being a great dog trainer, behaviorist, author and speaker. His relaxed and competent nature, combined with his enormous amount of knowledge, makes his training videos both educational and entertaining.  Take a look at this video and you'll see what I mean:
Exceptional $1 Trial
Doggy Dan offers a three day, $1 Trial. This is another really stand-out feature, and an amazing offer from Doggy Dan. For me, being able to see what the site looks like before committing to the monthly cost is a MASSIVE benefit. The $1 Trial lets you check out the entire site and gives you a feel for how the site works and what you are getting.  After having a look around, you'll immediately understand that you have some work to do.
There's no magic potion to solve all your dog's issues.  You have to watch the videos and learn, put the techniques into practice, keep watching to make sure you're doing it correctly, then once you get past the first couple of steps, spend the time to get onto the next phases of the training.
You'll know exactly what is involved before you commit.  And you get all of it for a fraction of the cost of a dog trainer coming to your home, as I explain in more detail in my article, Online Dog Training vs. Hiring a Professional Dog Trainer.  Honestly, it really is a no-brainer.

The Online Dog Trainer Testimonials
As expected, the testimonials about The Online Dog Trainer are a real joy to read. You can see some of them in my article, Find Out What People are Saying About Doggy Dan. The big difference between these live comments that are continually being posted by people, versus what you find on other sites, is that there is nothing fake about them…they are all 100% genuine.  These are totally real comments, from real people who love The Online Dog Trainer and Doggy Dan's methods.
How Much Does The Online Dog Trainer Cost?

Once you've decided to stay on after the 3-day trial, you pay $37 per month. When comparing online training websites, you'll find The Online Dog Trainer has significantly more content. There's no doubt that paying $37 a month to have a professional dog trainer in your home 24/7 is worth every cent!
But it gets better!  If you pay for a six-month membership, the cost is $147.  That's $24.50 per month!
Any even better…You can choose a 12-month membership for $198.  That works out to $16.50 per month!  Seriously, where can you possibly get a full year of professional dog training help for $16.50 per month?
And Doggy Dan covers countless dog behavior issues on his site, whereas some other websites and products out there either don't really work, or only work for a very specific problem, like toilet training. With The Online Dog Trainer you get everything, most importantly the pack leader understanding, which solves virtually all dog behavioral problems. Plus, if you do your homework, you'll quickly discover that having a professional dog trainer visit your home costs on average $400!
And that only covers a few hours. With The Online Dog Trainer, you get Doggy Dan with his proven methods that work, in your home whenever you need him.  And of course, you can cancel anytime.
Money Back Guarantee
You have nothing to lose. The Online Dog Trainer not only offers a $1 three-day trial, but they also offer a 60 day money back guarantee if you purchase the monthly membership, then change your mind.
My Final Recommendation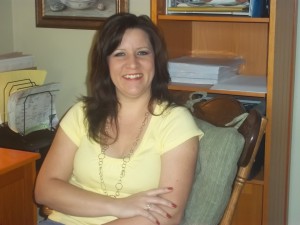 This incredible resource is endorsed by a national SPCA, has over 300 videos, with Doggy Dan himself in the forum. Add Project Moses, the complete section on becoming the pack leader, the "no fear or aggression" methods used, and every behavioral issue you can think of covered, and you have a one-stop, complete dog training solution that's available 24/7, on your computer or any mobile device.  My advice is obvious…GO FOR IT!
I Donate to Animal Charities
Thank you for visiting my website.  By the way, I donate 10% of all commissions I make on this website to animal charities.  You can see a list of the charities I donate to here.  If you like this website, please share it with your friends – every purchase helps animals! Debra
For more articles about dog training,

CLICK HERE