Dogs chewing furniture is a fairly common issue.  Chewing is a normal behavior, but it can become a problem if they're chewing objects such as your furniture.  If this behavior isn't corrected early on, it can lead to the destruction of your furniture on a very large scale. Learning how to stop a dog from chewing on furniture should be considered an urgent priority. In this article, we'll discuss common reasons why dogs chew furniture, and specific ways to stop it.
Why Do Dogs Chew on Furniture?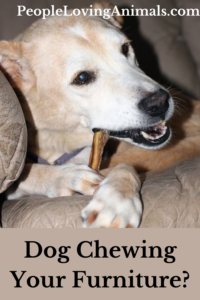 There are several possible reasons why your dog is chewing furniture.  Understanding why they're doing it is the first step to stop it.  The six most common reasons for dogs chewing furniture are:
1. Teething.  Puppies will chew on furniture if they're teething because teething is painful.  Chewing helps to relieve the discomfort.