It breaks my heart to think about how many dogs have lived their entire lives eating dry, processed dog food for every single meal.  Nom Nom dog food is a terrific option if you've decided to switch your dog to fresh dog food.  I'll answer all your questions in this review, plus I'll give you a link to get 60% off your first order.  I'm so happy for your dog that you're making this decision!  In this post, we'll cover:
About Nom Nom Dog Food
Nom Nom Dog Food Ingredients
How Nom Nom Works
How Much Does Nom Nom Dog Food Cost?
Drawbacks
Nom Nom Dog Food Reviews
Why Switch to Fresh Dog Food?
Approved by Board Certified Veterinary Nutritionists
About Nom Nom Dog Food
Nom Nom fresh dog food is food made by real people.  They're people who are enthusastic about giving dogs the best food for their health, so they can be their best and thrive.  Nom Nom delivers fresh dog food made with whole ingredients, and their recipies are backed by veterinary science.  Just like with humans, your dog's health begins with what they're eating.  Switching to fresh dog food is one of the best ways you can help your dog live a long, happy life.  And Nom Nom makes it so easy!

Nom Nom Dog Food Ingredients
Nom Nom dog food has fresh proteins your dog will love, plus the vitamins and nutrients they need to thrive.  You can actually see the proteins and vegetables in the food, like chicken, pork, beef, peas, kale, carrots and more.  You can actually see what your dog is eating!  Every meat and vegetable is cooked individually, then mixed in batches to seal in nutrients and maximize digestibility.  Their food contains no fillers or ingredients you can't pronounce, and the meals are pre-portioned for your dog's exact calorie needs.  Visit their website for a complete list of ingredients.  Here are some examples of what's in the meals:
Beef Mash: Ground beef, russet potatoes, eggs, carrots and peas
Chicken Cuisine:  Diced chicken, sweet potatoes, yellow squash and spinach
Pork Potluck:  Ground pork, russet potatoes, green beans, yellow squash, kale and brown mushrooms
Turkey Fare:  Ground turkey, brown rice, eggs, carrots and spinach
Wait a minute!  These dogs are eating better than I am!  LOL
Treats! Nom Nom also provides all-meat, high-value Beef Jerky treats your dog will love!  They're made with 100% beef with no preservatives, and they're made in the USA.  You can add a package to your order one time, or monthly.
How Nom Nom Works
When you visit their website, you'll tell Nom Nom about your dog.  Their breed, age, weight, preferences and whether they have any allergies or digestive issues.  They'll tailor individually packaged meals for your dog and ship them straight to your door.
You'll store the meals in the freezer (or refrigerator) until it's mealtime.  They'll also give you specific instructions on the best way to transition your dog from dry food to fresh food.  You should never change your pet's diet drastically and all at once.  You should transition slowly so you upset their digestive system.
How Much Does Nom Nom Dog Food Cost?
Meal plans start at $1.57 per meal.  The exact price will depend on your dog's age, activity level and weight.  Every plan is personalized for your dog's specific needs.  Shipping is always free, and they also offer a multi-pet discount. Once you answer the specific questions about your dog's preferences, weight, etc., they'll give you the exact price you'll pay monthly.
You can make changes or cancel at any time, and they provide a 30-day money back guarantee.

Drawbacks
Feeding your dog fresh dog food costs more than kibble.  That's the only drawback.  But when you consider the pros and cons, the benefits definitely outweigh the increased cost!  Feeding fresh dog food improves your dog's quality of life, and will likely lengthen your dog's life and save you thousands of dollars on vet bills and medications over your dog's lifetime.
Just like with people, your dog's health starts in their gut. Providing a better diet means they'll have a softer coat, more energy, better breath and consistent stools.  Dogs can't tell us how they're feeling, but we can sure tell when our dog is feeling healthy, energenic and happy!
But listen to me!  If you can't afford fresh dog food, don't feel guilty.  As pet owners, it's our responsibility to provide the best quality food for our pets that we can afford.  If you can't afford Nom Nom, that's ok.  But please do feed your dog the best food you can afford.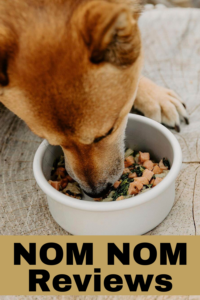 Nom Nom Dog Food Reviews
Nom Nom Dog Food received DogFoodAdvisor.com's highest 5-Star rating!
Here's what others are saying about Nom Nom:
"In today's world, it's nice to see a product actually live up to its claims.  Our two dogs have been transformed!  These are 12 and 13 year old dogs running around and jumping like puppies.  It's amazing!"

  Trustpilot review by Tollef R.
"Our vet said she's never seen such healthy fur on a dog.  This dog food is worth every cent!" 

  Trustpilot review by Donna S.
"We tried many of the other fresh dog foods and Nom Nom has been our favorite by far. The food is obviously so much better than any other services and the price is reasonable. They've made it possible for us to give our fur baby a healthy diet!" 

Trustpilot review by Ben W.
Why Switch to Fresh Dog Food?
According to Doggy Dan, Professional Dog Trainer and Behavioral Specialist and owner of the dog training website, TheOnlineDogTrainer.com, kibble is often the default dog food because it's convenient, easy, clean and dogs seem to like it.  But the truth is, kibble is processed and it's not highly digestible.  
Many of the nutrients you see on the label of your dog's food are not naturally occurring nutrients, and many of the vitamins and minerals are created synthetically.
And worse, commercial kibble often contains mycotoxins, toxic substances that can cause allergies or even cancer.  And most commercial kibble doesn't have the valuable enzymes that dogs need for a healthy gut.
Dogs are, in fact, carnovores!  They want real food and not man-made dog food. They (like us!) are not built to survive on synthetic nutrients and flavorings, and fillers.
(And as far as whether your dog like his kibble…Do you say he likes it because he eats it?  Seriously…what choice does he have?)
Vet Recommended Dog Food
You might be thinking that as long as your veterinarian recommends a certain dog food, that's what you should go with.  In some instances, your veteriarian can recommend certain foods for your dog to address things like food allergies and other conditions.
I had an elderly cat several years ago who developed kidney disease.  Her vet recommended a prescription cat food specifically for the issue, and I have to say her condition improved immensely.
But…he also said the reason she developed kidney disease in the first place was because I had fed her only dry food her whole life.  She should have received wet food, and likely lived her entire life dehydrated.
According to Doggy Dan, veteriarians are taught astonishingly little about nutrition in vet school.  And often the majority of the training they do receive is provided by pet food companies.
Sound familiar?  Our doctors are also influenced by what drug manufacturers are promoting.
If your dog struggles with weight issues, digestive problems, allergies, or other common conditions, making kibble their only source of food isn't doing them any favors.  Your dog needs real food.
Approved by Board Certified Veterinary Nutritionists
Nom Nom dog food is approved by Board Certified Veterinary Nutritionists.
According to the American College of Veterinary Nutrition, a Board Certified Veterinary Nutritionist is a veterinary specialist in animal nutrition.
Board Certified Veterinary Nutritionists are kind of a big deal, and Nom Nom has two on staff who work extensively to make sure everything they send to you is the very best for your dog's health and livelihood.

Make a Great Decision for Your Dog!
Don't neglect making the best decisions you can about your dog's food.  And like I said, don't skimp on your dog's food.  Provide the best quality food you can afford.
I never used to question feeding my pets dry food.  It's how I was raised, and it honestly never occurred to me that it would make a big difference in their health if they had better qualify food.
We didn't used to know this, did we?  But we know now.

I Donate to Animal Charities
Thank you for visiting my website.  I donate 10% of my earnings from this website to animal charities.  You can see a list of the charities I donate to here.  If you like this website, please share it with your friends and family who have a pet.  Thank you!  Debra
For More About Dog Health,

CLICK HERE