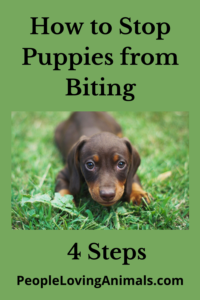 First, follow these 4 steps for how to stop puppies from biting.  Then, if your puppy continues to bite, or if you have other behavioral issues with your puppy, get extra help from Doggy Dan (see below).
1. Provide your puppy something else to chew on.  Puppy chew toys are a good choice (especially since they're teething!)
2.  When your puppy starts biting you, redirect him to his chew toy.  This takes repetition – do this consistently.
3.  If your puppy won't stop biting, place him on the floor and don't say anything.  If he continuously gets this consequence, it will discourage him from biting.
4.  If he continues biting once he's near you again, put him in time-out for a few minutes (dogs hate to be alone or ignored).
Where to Get More Help
I learned these tips from professional dog trainer, Doggy Dan's video website, The Online Dog Trainer. If you check out the site, you'll see it includes far more training about puppy biting.
Even more exciting is that Doggy Dan has a video series called, "Project Moses."  Doggy Dan adopts a beagle puppy named Moses at 8 weeks, then does weekly training videos with Moses all the way up to 1 year old.  You get to see the entire training process!  Click below to visit Doggy Dan's Perfect Puppy Program:

For more discussion on this topic, read this article (includes video!) How to Get Puppies to Quit Biting
Who is Doggy Dan?
Doggy Dan is a Professional Dog Trainer and Behavioral Specialist, and the creator of the dog training website, TheOnlineDogTrainer.com.  The site has more than 300 videos where you get to see Doggy Dan working with dogs and their owners.  He offers a $1 three-day trial to the website and a monthly membership for $37.  It's been my #1 recommendation for dog training for more than seven years because it is effective and affordable.

I Donate to Animal Charities
Thank you for visiting my website.  I donate 10% of all commissions I earn on this website to animal charities.  You can see a list of the charities I donate to here.  If you like this website, please share it with your friends – every purchase helps animals!  Debra
For More About Puppy Training,

CLICK HERE.