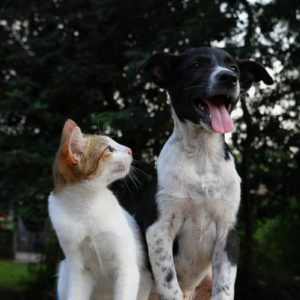 Trying to keep up with the news about the coronavirus can be overwhelming, and as a pet owner, you're not just worried about yourself, but your pet as well. In this article, we'll cover some of the common questions pet owners have about the coronavirus and pets.

Can Pets Get Coronavirus?
No. "There is no evidence that companion animals/pets such as dogs or cats can be infected with the new coronavirus," according to the World Health Organization (WHO).  The fact is, the type of coronavirus that's currently affecting people around the world is not a type of coronavirus that dogs and cats can get or transmit.  The AKC (American Kennel Club) agrees regarding dogs:  "Dogs can contract certain types of coronaviruses, such as the canine respiratory coronavirus, but this specific novel coronavirus, aka COVID-19, is believed to not be a threat to dogs."
For more detailed in formation on this question, visit https://www.bustle.com/p/can-pets-get-coronavirus-heres-what-you-need-to-know-21780019.
Can I Get the Coronavirus from My Pet?
No. According to the CDC (Centers for Disease Control and Prevention (CDC), there is no evidence that a dog or other pets can contract or spread the disease among themselves or humans.
Animals spread viruses between one another that are genetically distinct from human viruses. The genetic distinction makes it extremely difficult for humans and their pets to pass diseases on to one another. (Except for the rabies virus, which is known to be transmitted from dogs to people.)
For more detailed information on this question, visit https://www.petmd.com/news/care-safety/what-pet-parents-need-know-about-new-coronavirus-38247.
What Pet Owners Should Be Doing
Here are some things you can do right now.
Stay Informed.  It's important to realize that viruses are constantly evolving.  At this time, the COVID-19 virus does not appear to be a problem for cats and dogs, but it is possible that this could change in the future as our knowledge about and understanding of the virus improves.  The best thing we can do as pet owners is to stay informed by monitoring news from credible sources.
Help Prevent the Spread of COVID-19.  Good hygiene is one of the best ways to defend against any sort of infectious agents.  Wash your hands with soap and water frequently, especially if you've been near a sick person and after handling animal or human waste.  It's always a good idea to wash your hands after being around animals.
Stock Up on Pet Supplies.  Your supplies should consist of at least a 30-day supply of food plus a 30-day supply of your pet's medications.
Designate a Care Giver.  You may wish to arrange for a care giver in case you were to become ill.  Remember to gather your pet's information and medical records for that caregiver.
If You Think Your Pet is Sick.  If your pet is ill, seek appropriate veterinary attention and follow a doctor's recommendations when it comes to vaccination and other forms of preventative care.
Donate to Help Animals
The ASPCA and the Humane Society of the United States are two reputable organizations that would accept donations to help animals.  You can donate to the ASPCA HERE, and the Humane Society HERE.
Provide foster care for a pet.  Animal shelters are highly in need of people to foster pets amid the coronavirus fear.  For more information, visit: https://www.wsoctv.com/news/trending/coronavirus-animal-shelters-could-use-foster-homes-pets-during-pandemic-social-distancing/77CL6T75U5CFNPLSXT7JYL3GGI/.
You can also contact your local SPCA to see if they need help.
For More Information
For more information about pet safety and the coronavirus, visit https://www.petmd.com/news/care-safety/what-pet-parents-need-know-about-new-coronavirus-38247.
Stay Up to Date!
Up to date information and understanding about the virus is continuing to evolve.  Information could change about the disease and its impact on pets and their owners in the coming weeks and months.  Stay updated and informed.
For More Articles About Pet Health, CLICK HERE