Pet Calm Homeopathic Medicine


Natural remedy for dog anxiety.
Uses and Benefits:
Temporarily relieves nervous symptoms in pets, such as trembling and fearfulness.
Helps calm the nerves in pets with nervous dispositions.
Maintains emotional balance and confidence.
Promotes calm during fireworks and other frightening occasions.
Helps pets cope during difficult times.
Promotes nervous system health.
You can purchase Pet Calm

HERE
What is PetCalm?
PetCalm is a safe, non-addictive, natural remedy containing 100% homeopathic ingredients especially selected to temporarily relieve symptoms of nervousness, helping to calm your pet and promote a balanced mood.
PetCalm is presented in two convenient forms, dissolvable granules or spray, and either form may be taken depending on your pet's preference. Both forms are safe and easy to administer without fussing or fighting. The pleasant tasting granules are simply sprinkled in a favorite treat or on your pet's tongue and rapidly absorbed in the mouth, while the spray can be administered directly into your pet's mouth or sprayed on their food or water.
PetCalm is a natural remedy with no risk of side effects or addiction and can be safely used by animals of all ages and sizes.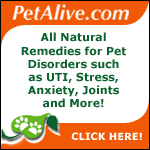 All PetAlive homeopathic products and biochemic tissue salts are manufactured in an FDA-registered and cGMP-compliant pharmaceutical facility under the supervision of qualified homeopaths and responsible pharmacists. Individual ingredients are listed in the Homeopathic Pharmacopoeia of the United States (HPUS).
Harmony and Balance
Although certain animals do have a more nervous temperament than others, traumatic events or exposure to particular stressors can upset even a normally calm animal.
Fireworks, a trip to the vet, thunderstorms, small children, an abusive situation, change of owner, hair dryers, change of house, the addition of another pet – these are just a few of the everyday situations that can cause stress in your pet.
In order to help your pet cope with the common stressors of everyday life, it is therefore important to promote nervous system health.
The Natural Way

The best approach to nervous system health is a holistic one. This means a healthy diet, regular exercise and a secure home environment — as well as extra support in times of stressful events like Halloween.
What else can you do to help your pet during times of stress? Here are some tips from Pet Alive's Clinical Psychologist and Veterinary Nurse:
Although it's a natural urge to comfort your pet during times of distress, by giving your pet attention during a frightening episode such as a thunderstorm, you may actually encourage the behavior. Ensure that your pet feels secure, turn up the radio or put on the TV to mask loud noises and provide a warm, cozily lit area for your pet to sleep in, and then do your utmost to ignore any unwanted behavior. Not an easy thing to do, but persevere.
Be consistent with your reaction to your pet. The whole family needs to follow the same routine when dealing with your pet's stressors otherwise your pet will become confused and even more insecure.
Consider consulting an animal behaviorist if your pet's behavior is affecting quality of life. The sooner a problem is addressed, the easier it will be to modify the behavior.
Start socializing your new pet at an early age, allowing pets to become accustomed to trips in the car, strange noises, yelling children, noisy trash collection trucks etc.
Regular daily exercise is essential to help keep your pet healthy and fit, as well as in peak mental health. Bored, frustrated animals can hardly be expected to behave well.
A confident pet is a happy pet and will be an asset to any owner. This means lots of love along with consistent rules and discipline.
You can purchase Pet Calm

HERE
Please let me know what you think of this product by adding comments below.  Thank you!
Debra
We Donate to Animal Charities
Thank you for visiting my website.  By the way, I donate 10% of all commissions I make on this website to animal charities.  You can see a list of the charities I donate to here.  If you like this website, please share it with your friends – every purchase helps animals!
For More Articles About Pet Care,

CLICK HERE