In this video, I'll tell you what KitNipBox (cat barkbox) is, how to get it, how much it costs, and what' in it.  I'll also give you a link to get 15% off your first KitNipBox.  Thanks so much for watching!  Debra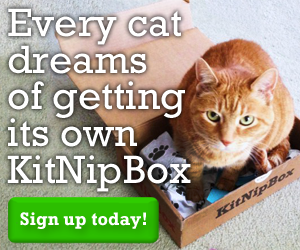 TO GO TO THE KITNIPBOX WEBSITE, CLICK HERE:
https://peoplelovinganimals.com/KitNipBox
TO ORDER KITNIPBOX, CLICK HERE:
https://peoplelovinganimals.com/KitNipBox
TO GRAB YOUR FREE GIFT, CLICK HERE:
http://peoplelovinganimals.com/subscribe-to-receive-free-guide-to-stop-bad-cat-behavior
Bark Box for Cats!
What is KitNipBox?  It's like BarkBox, but for cats!  It's a monthly cat box subscription service where you pay $19.99 per month, then every month your cat receives a box full of cat toys and treats.  Shipping is free within the USA, and you can cancel your subscription at any time.
Great Gift for Cat Lovers!
KitNipBox makes a great gift for cat lovers.  If you know someone who has a cat, just got a new cat, or someone who just got a new kitten, consider giving a KitNipBox subscription as a gift.  You might also consider sharing a KitNipBox subscription with a friend who has a cat – share the monthly fee, then let your cats share the toys and treats that come each month.
KitNipBox Coupon Code
If you click THIS LINK, you'll receive 15% off your first KitNipBox!
I Donate to Animal Charities
I donate 10% of all commissions I earn from this website to animal charities.  You can see a list of animal charities I donate to HERE.  Thanks so much for visiting, and please share this article and video with your friends who love their cats!  Debra 🙂
BarkBox for Dogs
If you're also interested in BarkBox for dogs, click HERE.