Professional Dog Trainer and Behavioral Specialist, Doggy Dan, has written this informative and touching blog post outlining 10 things every dog owner should know.  Click here to read the entire article – I think you'll be very glad you did! (Please share this with your friends and family who love dogs!)  In this article, we'll discuss Doggy Dan's list!
10 Things Every Dog Owner Should Know
1.  There is no such things as a bad dog. (See How to Improve Dog Obedience – Stop Disciplining and Start Connecting).
2.  Every dog can be a great dog with a little time, patience and training. (See Dog Training for Beginners).
3.  Kind, gentle training methods are always the best way to get your dog to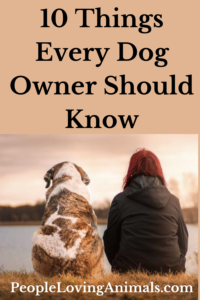 listen. (See Why You're Struggling to Train Your Dog.)
4.  Your dog can sense when you're happy, sad, anxious or stressed.
5.  No dog is perfect, but all dogs deeply desire to make us happy.
6.  The most important gift you can give your dog is your time. (See How Much Do You Love Your Dog?)
7.  Your dog is never too old to learn a new trick. (see Dog Training for Adult Dogs).
8.  Adopting a dog is a lifetime commitment. (see Christmas Puppies:  Are You Truly Ready for the Responsibility? (video).
9.  There's nothing that a good cuddle or a walk in the park can't fix. (See Do Pets Improve Our Health? (includes video).
10.  Your dog might only be a small part of your life, but you are your dog's ENTIRE life.
Which of These is Your Favorite?
Please comment below and let me know which one of these is your favorite.  Also, please share this post with your friends and family members who own dogs, especially if they're a new dog owner!  You might also enjoy and want to share, How to Take Care of a Dog – Help for New Dog Owners (includes video).
Who is Doggy Dan?
Doggy Dan is a Professional Dog Trainer and Behavioral Specialist, and the creator of the dog training website, TheOnlineDogTrainer.com.  The site has more than 300 videos where you get to see Doggy Dan working with dogs and their owners.  He offers a $1 three-day trial to the website and a monthly membership for $37.  It's been my #1 recommendation for dog training for more than seven years because it is effective and affordable.  You can read my full review here.

I Donate to Animal Charities
Thank you for visiting my website.  I donate 10% of my earnings on this website to animal charities.  You can see a list of the charities I donate to here.  If you like this website, please share it with your friends – every article and every purchase helps animals!  Debra
For More About Pet Care,

Click Here