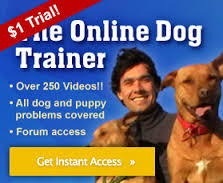 In this video, we'll discuss the best ways to stop a dog from barking.  I recommend a website called The Online Dog Trainer, created by Professional Dog Trainer and Behavioral Specialist, Doggy Dan.  The site offers a 3-day trial for $1 and has more than 250 step-by-step dog training videos by Doggy Dan, including videos about how to stop dog barking.  Thank you for watching!  Debra 🙂
To read the article discussed in the video, click here:
http://peoplelovinganimals.com/how-to-stop-your-dog-from-barking-tips-and-step-by-step-videos
To sign up for the $1 trial offer with Doggy Dan, click here:
http://shermand22.doggyd4n.hop.clickbank.net/?rd=barking
To read my complete review of The Online Dog Trainer, click here:
http://peoplelovinganimals.com/the-online-dog-trainer-product-review-free-dog-training-videos
To subscribe to my Dog Lovers email list (you'll receive 5 free dog training videos from Doggy Dan), click here:
https://forms.aweber.com/form/04/1083570904.htm
Excessive Dog Barking
Dogs should be allowed to bark.  It's how they talk.  I had a miniature doxy named Taz who loved to stand out in the back yard and bark back and forth with the two little dogs next door.  They enjoyed it.  It was ok.
But…if your dog is barking excessively, there's a problem.  Excessive dog barking usually stems from stress, anxiety, an inability to relax, fear…it's a serious problem that needs to be addressed.  And not just because your neighbors are complaining (thought that's a serious issue as well), but because it's not good for your dog.  A calm, relaxed, content, happy dog does not bark excessively.  So if your dog is barking all the time, he needs help.
Where to Get Help for Dog Barking
Professional Dog Trainer and Behavioral Specialist, Doggy Dan, created the website, The Online Dog Trainer, where he has more than 250 step-by-step dog training videos, including videos about how to stop dog barking.  Doggy Dan believes the secret to solving ANY dog behavior issue is Pack Leader Training.  If your dog sees you as the pack leader, he'll be calm and relaxed, and won't have reason to bark excessively (or protect the house, be aggressive, etc.)  But if your dog thinks HE is the pack leader, then he's under and enormous amount of stress; thus, the excessive dog barking and other behavior issues.
To find out more, visit Doggy Dan's website!  You and your dog will be glad you did.  🙂